Bishop Tedosije of Raska-Prizren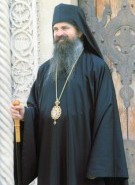 Born on June 29, 1963 in Čačak, Central Serbia. After completing his elementary and secondary education in Užice he studied theology at the Belgrade School of Theology until 1987 when he became a novice in Crna Reka Monastery. He received a monastic tonsure in 1989 and was ordained a deacon in 1990 in Prizren. Fr. Teodosije became a priest in 1992 in Ćelije Monastery, Central Serbia. In March 1992 he was elected the abbot of Visoki Dečani Monastery (14th century) and in May 2004 he was ordained an auxiliary (titular) bishop of Lipljan. At the same time Bishop Teodosije has continued to perform the duty of Dečani Monastery Abbot. The Synod of Bishops appointed him in 2005 a Serbian Orthodox Church representative for the contacts with international community in Kosovo and at the same time he became a member of the Council of Europe led Reconstruction Implementation Committee which has been working on reconstruction of the Serbian Orthodox Church sites that were destroyed in March 2004 riots in Kosovo.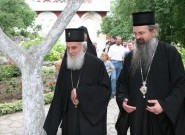 In 2007 Bishop Teodosije participated in the negotiations on Kosovo in Vienna as one of the Serbian Orthodox Churchdelegation members for protection of Serbian religious and cultural heritage in Kosovo. Since February 2010 and the retirement of the previous Diocesan Bishop Bishop Teodosije became more active in Diocesan affairs as an assistant Bishop to Metropolitan Amfilohije, the then Administrator of the Diocese of Raška and Prizren. The administrative center of the Diocese is currently in Gračanica Monastery although Prizren remains a traditional Diocesan see from the 11th century.
Bishop Teodosije was elected a new Bishop of Raška-Prizren by the Assembly of Bishops of the Serbian Orthodox Church on November 18, 2010. On December 26, 2010 Bishop Teodosije of Raška and Prizren was officially inaugurated at St. George's Cathedral in Prizren.