Published: 07/01/2011
Modified: 12/10/2020
Bishop Teodosije served the Christmas Liturgy in Prizren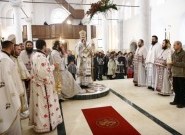 Central Christmas celebration in Kosovo and Metohija was held in Prizren, the seat of the Raška and Prizren Diocese. The Christmas Liturgy in the restored cathedral of St. George was served by the Bishop of Raška-Prizren Teodosije in concelebration with 12 priests and priest-monks. Today's solemn liturgy in Prizren was also attended by Vice Prime Minister Božidar Đelić and about 150 believers from the Prizren area.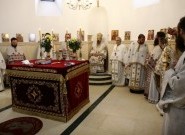 During the Liturgy, in which almost everyone present received the Holy Communion, the Christmas Epistle of Serbian Patriarch Irinej was read. After the Holy Liturgy Bishop Teodosije and monks of Decani Monastery gave the Christmas presents to the present children. After that Bishop Teodosije addressed the congregation saying that this is the first Christmas Liturgy served in Prizren by the Bishop of Raška-Prizren since 1999 and that it marks a new beginning.
"May God grant that this good start that we are setting here today, the Divine Liturgy on Christmas Day, be the seed that will bring a rich harvest, that will bring sweet fruits. I am convinced that all that was right, honorable and honest in this town will again reappear and that the Prizren seminary will also start working once again, "said Bishop Teodosije.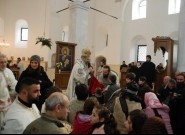 On this occasion Bishop Teodosije also invited displaced citizens of Prizren to return to their city: "The conditions for the displaced to return are being created, and when they do come back, they won't be alone because besides their own houses, they will be having here their second home" said the Bishop.
After the Liturgy Vice Prime Minister Djelic and Bishop Teodosije gave a statement to the media, and then they walked along the streets of Prizren to see the restored building of Sima Igumanov in the complex of the Seminary of St. Cyrill and Methodius.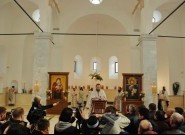 At 13.00 hrs Bishop Teodosije organized a solemn Christmas buffet reception in the Bishops Residence in downtown Prizren for representatives of the local religious and ethnic communities as well as international representatives in Kosovo. In presence of more than sixty guests, among whom was the Vice Prime Minister Djelic, Bishop Teodosije said that for him it was a special honor and pleasure to welcome the guests on the occasion of Christmas in the restored seat of the Raška-Prizren Diocese. The Bishop also expressed a hope that the Serbian Orthodox Diocese will be a place where people would meet and talk together in a spirit of mutual respect and understanding.