Published: 18/11/2010
Modified: 12/10/2020
The Holy Assembly of Bishops Elected Bishop Teodosije as a New Bishop of Raška-Prizren and Kosovo-Metohija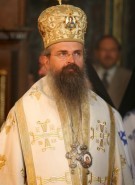 The Holy Assembly of the SOC Bishops, on its regular meeting today has elected Bishop Teodosije as the new Diocesan Bishop of the Raška and Prizren Diocese. The spokesperson of the Holy Synod, Bishop Irinej of Backa, explained at the press conference in the Belgrade Patriarchate that after the previous diocesan Bishop (Artemije) was permanently relieved from his office in May this year the Assembly has appointed the Administrator to the Diocese, Metropolitan Amfilohije. "However the current situation cannot be permanently held. It is necessary for the Diocese to breathe normally particularly it is facing many problems and severe challenges. That was the reason why the Assembly of Bishops thought it was necessary to appoint a regular Diocesan Bishop", said Bishop Irinej.
The news about the election of Bishop Teodosije as a new Bishop of Raska and Prizren was greeted with joy among the clergy, monastic communities and the faithfull people and was marked by ringing of bells on churches and monasteries throughout the Diocese.
Bishop TEODOSIJE ŠIBALIĆ ( pronounced as Theodosye Shebalitch)
Born on June 29, 1963 in Čačak, Central Serbia. After completing his elementary and secondary education in Užice he studied theology at the Belgrade School of Theology until 1987 when he became a novice in Crna Reka Monastery. He received a monastic tonsure in 1989 and was ordained a deacon in 1990 in Prizren. Fr. Teodosije became a priest in 1992 in Ćelije Monastery, Central Serbia. In March 1992 he was elected the abbot of Visoki Dečani Monastery (14th century) and in May 2004 he was ordained an auxilliary (titular) bishop of Lipljan. At the same time Bishop Teodosije has continued to perform the duty of Dečani Monastery Abbot. The Synod of Bishops appointed him in 2005 a SOC representative for the contacts with international community in Kosovo and at the same time he became a member of the Council of Europe led Reconstruction Implementation Committee which has been working on reconstruction of the SOC sites that were destroyed in March 2004 riots in Kosovo. In 2007 Bishop Teodosije participated in the negotiations on Kosovo in Vienna as one of the SOC delegation members for protection of Serbian religious and cultural heritage in Kosovo. Since February 2010 and the retirement of Bishop Artemije, he has become more active in Diocesan affairs as an assistant to Bishop Atanasije and Metropolitan Amfilohije, the Administrators of the Diocese of Raška and Prizren (The Diocese is covering area of Kosovo and Raška Regions). The administrative center of the Diocese is currently in Gračanica Monastery although Prizren remains a traditional Diocesan see from 11th century.