The destruction of graves over the last twenty years is part of a systematic removal of all traces of any kind of Serbian or Orthodox presence in Kosovo and Metohija
Author: Živojin Rakočević
Politika daily, 16 July 2019.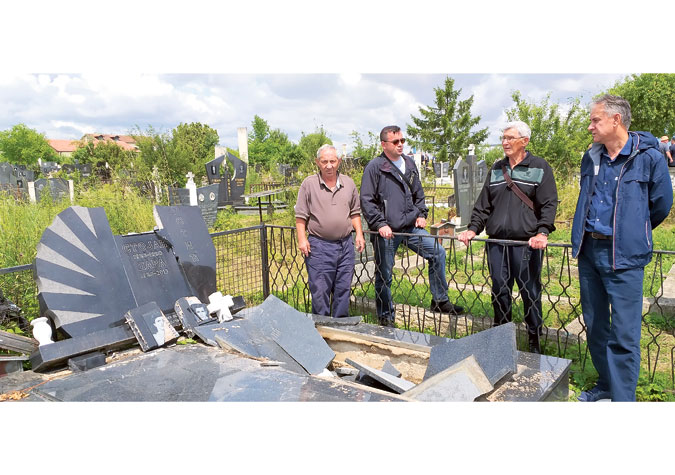 Lipljan— One can hear the loud pounding of hammers in the multi-story buildings under construction, while foremen shout orders in Albanian. Below them, the Lipljan Serbs look for the graves of their deceased at the cemetery, where, two nights ago, they heard blows smashing down nineteen Serbian gravestones. Between the nighttime  demolishers and daytime construction workers, at the completely ruined grave of his parents, stands Dojčin Kostić. He is quiet, calm, and thoughtful, with the reserved emotions of a city dweller.
"I'm just sad, I don't have any hatred, no despair… A lot of evil has taken place here, we've become far too numb to it. There have been too many murders and arsons, too much stress. This gravestone was a bit nicer, so it caught their eye. They threw stones at it seven months ago. They broke the cross, but we fixed it. But it doesn't matter,  we'll make a new one, and they can break it again, but we're here to put up a new one. I don't know how much longer this will go on," Kostić says. On the mound of his father's grave, the earth settles, and a marble slab sticks out from the sunken ground. Dojčin Kostić is indifferent to the police, who have never solved most of the attacks and incidents and believes that "this is something that bothers most reasonable Albanians too."
The mayor of Gračanica, Srđan Popović, arrived on the scene at the Lipljan city graveyard, together with his associates and recorded the damage. His colleague from Lipljan, an Albanian, never showed up, while the police conducted an investigation.
"This is something that one should not even think about, let alone let happen in the twenty-first century. Especially not in Lipljan, we all know what the municipality went through, how many Serbs had to leave. Today's events show us that even the dead do not have peace," Popović said, demanding that the police and security structures do their job, "because respecting history, culture and tradition is a prerequisite for peace and any kind of future."
The destruction of cemeteries in the past twenty years is part of a systematic removal of any kind trace of Serbian or Orthodox presence in Kosovo and Metohija. Together with the disappearance and expulsion of Serbs from the cities, the largest city cemeteries in Priština, Kosovska Mitrovica, and Peć were ruined, while the cemetery in Đakovica was completely dismantled. The remnants of the city cemetery can barely be glimpsed through the thickets growing over it. One of the methods of destruction is renaming and falsifying names, purposes, property, cemeteries, churches, and cultural sites.
A good example is the ruined Serbian cemetery in Gnjilane, where recently a sign was put up in Albanian identifying the site as the "Graveyard of members of the Catholic, Protestant, and Jewish communities." Thus, the Serbian Orthodox graveyard became someone else's, and mostly, a graveyard of largely unknown communities and religious groups. Deeper in ethnically cleansed territories, village cemeteries have been systematically destroyed, which are today very difficult to find. Dr. Mitra Reljić, a professor at the Faculty of Philosophy in Kosovska Mitrovica, is an expert on the issue and has been studying destroyed graveyard heritage for twenty years.
In her book, Serbian Cemeteries in Kosovo and Metohija: Destroyed Monuments and Language Heritage, she claims that during the last twenty years, tens of thousands of grave markers, of varying ages, from the Middle Ages to the present, were destroyed. In one of the most important books about the Serbian language, The Serbian language in Kosovo and Metohija Today, Professor Reljić says that "grave marker inscriptions provide significant data on the historical fate and lasting emigration of Kosovo Serbs caused by violence, their exceedingly difficult lives, the patriarchal attachments of family life, everyday modesty, faith, and the forgiving nature of the Kosovo Serb." In her many years of work, she often mentions the destruction of the gravestones of deceased children, some of which she watches over and cares for herself.
Among the nineteen ruined graves in the Lipljan town cemetery is the beautiful white tombstone of one-year-old Nikolina Tonić. At the half-smashed inscription, one of the local residents nervously brushes the length of the broken tomb with his hand and recalls how the child's grandmother cried inconsolably for her granddaughter. A little further down, he goes on to say that the Labus family cross has already been broken twice. Everyone is looking for a picture of their loved ones, seeking their sorrow. Someone from the Krulj family put Cveta's broken picture back together, almost as if it were a mosaic. At the tomb of Zlatko Jovanović, his wife, Milijana, speaks her monologue that resembles a dirge:
"What can I do? I can't sleep in the cemetery, but all the same, I am not leaving. My husband is buried here, and so I will be too. Let them do whatever they want! Let them take a bulldozer and flatten it all, I'll be here, beside my husband. We have no peace, I just know how I spent last night, and how they attacked me at home fifteen years ago, how they beat me, all just to suffer this one day…I beg the authorities, and for good people to approach them, and to tell them to leave the dead alone!"