Published: 23/02/2010
Modified: 12/10/2020
Radio Television Serbia – Warrant issued for hegumen Simeon (Vilovski), February 23, 2010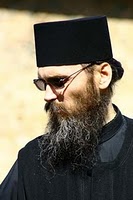 By order of the Serbian High Court an international warrant has been issued for the arrest of protosingel Simeon Vilovski. A decision has also been adopted to conduct an investigation against Vilovski.
An international warrant was issued for protosingel Simeon Vilovski because he is inaccessible to the judicial authorities of Serbia, said the spokeswoman for the High Court in Belgrade, Dušica Ristić.
Ristić told Beta news agency that the warrant issued by order of the High Court and that a decision was adopted to conduct an investigation against Vilovski and remand him into custody.
Two days ago an investigation was launched against the director of the Rade Neimar Diocesan Center Predrag Subotički and he is presently in custody.
Subotički and Vilovski are suspected of having illegally appropriated 350,000 euros intended for the reconstruction of monasteries.