Published: 23/03/2010
Modified: 12/10/2020
RTS: City of Dušan left without Serbs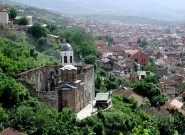 Radio Television Serbia, March 21, 2010
Of the approximately ten thousand who lived here until 1999, today there are only 17 Serbs left in Priština, and only one child, five-year old Milica.
The consequences of ethnic cleansing in Kosovo and Metohija are most apparent in the cities where the remaining Serb population can be counted with the fingers. This is also true of the ancient city of (Emperor) Dušan, Prizren, once proud of its multi-ethnic life, bringing together, in addition to the Albanians, Turks, Serbs, Goranis and Croats.
Of the approximately ten thousand who lived here until 1999, today there are only 17 Serbs left in Priština, and only one child, five-year old Milica.
This text will be replaced
Radio Television Serbia feature, March 21, 2010
During the March 2004 Pogrom, everything belonging to the Serbian Orthodox Church and the Serbian people in Prizren was torched. Flames devoured Potkaljaje, the most beautiful and the oldest part of Prizren, where Serbs lived, adorned by Christ the Savior Church from the 14th century, the Bishop's Residence, the Seminary, and in the city itself, St. George Orthodox Cathedral and Bogorodica Ljeviška (Holy Virgin of Lyevish) Church.
On March 17, 2004, there were 50 Serbs in Prizren. All were evacuated to the base of KFOR. So they survived, but the majority did not return to their city. Since then they have survived thanks to the care of the clergy and in some cases the protection offered them by Turkish neighbors.
The most moving example is the unselfish friendship between Evica Đorđević, her daughter Milica and "grandfather" Adem Mujović. Only when accompanied by him do they dare venture out on the street, he buys their food and takes care of everything.
"I love my city. The graves of my parents and my grandfather, who was a parish priest, are here. We regularly visit their graves on Remembrance Saturdays, who would have lit candles for them all these ten years had we not been here," says Evica.
"As soon as she decided to stay here, in her home, I said I would help her as much as I can, voluntarily," said Adem Mujović through his tears.
Prizren without Serbs is not the same city
Many people say that Prizren is the most beautiful city in Kosovo, unique architecture, climate, but without Serbs, they say, it is not the same city.
Miloš Nekić, 82 years old and living alone, keeps his memories of the Prizren of yesterday. His house, destroyed on March 17, was renewed by the Kosovo government but he says it is not for sale.
"Prizren without Serbs is inconceivable. On March 17 they imaged they could totally wipe us out but through some combination of circumstances they did not wipe us all out," said Nekić.
Young Prizren residents do not speak Serbian and did not want to talk to RTS but older ones assured us that they want Serbs to return. And there are some who are ashamed of the misdeeds of their compatriots.
Serbian state secretary of the Ministry for Kosovo and Metohija, Oliver Ivanović, was in Prizren verifying whether return was possible.
"It is very important that the state help in this and that some kind of indirect communication with the Kosovo authorities is established, because these people cannot survive if they do not have all the factors on their side. At this moment their only support is strong faith. How long this will last, I don't know. I think it is necessary for them to receive concrete assistance quickly," said Ivanović.
We leave Prizren with the fear that perhaps next time we will not find the heroes of our feature here.
Heroic people, who for 11 years have lived like shadows in their own city and who may not have the strength to go on fighting anymore.