Published: 24/08/2010
Modified: 12/10/2020
After Divine Liturgy the first session of the Diocesan Council has been held in Prizren since 1999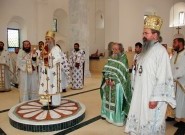 Locum Tenens of the Diocese of Raska-Prizren and Kosovo-Metohija Metropolitan Amfilohije today served the Divine Liturgy in the Cathedral church St. Great Martyr George in Prizren with the concelebration of Vicar Bishop Teodosije and eighteen priests. During the Divine Liturgy a first ordination has been held since 1999. Deacon Jovica Vlaskovic from Zubin Potok was ordained a presbyter and was appointed as a parish priest of the restored parish of St. Peter and Paul the Apostles in Istok. In the Divine Liturgy besides priests and few monks also forty believers participated.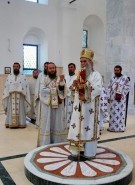 After the Divine Liturgy on the premises of the newly restored Bishop's residence a first session of the Diocesan Council was held. The new composition of the Council was introduced. It has been the first session of this diocesan body which was held in the building of the Diocese in Prizren since 1999. Following it a first session of the Diocesan court was held where it was discussed about cases that had come or had been delayed. After that there was a luncheon prepared on the premises of the Bishop's residence.
During the lunch Bishop Teodosije held a sermon saying that it was the historical day for the Diocese of Raska-Prizren and its faithful people because the Church had strength for the first time since 1999, and especially after the March pogrom in 2004 to restore its regular activities in the Diocese of Prizren and held its first meetings of the Diocesan Council and Court. It was a message, Bishop said, that the Church did not give up its sanctuaries and the centuries-old centre of the Diocese and that all special thanksgiving we owed to Metropolitan Amfilohije and former Locum Tenens Bishop Atanasije, who taught us by their examples how to persist on the way of serving the Christ. Bishop Teodosije thanked especially the present priests who remained in their parishes in the most difficult times bearing the cross of Kosovo and Metohija with its people.