Published: 09/05/2010
Modified: 12/10/2020
Bishop Atanasije takes part in patron saint's day celebration in Zvečan, Bishops Artemije and Teodosije serve in Gračanica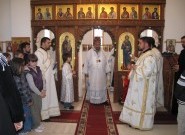 Today in the church of the Holy Great-Martyr George in Zvečan the patron saint's day of the church and of the town of Zvečan (which is celebrated on the first Sunday after the saint's feastday) was officially celebrated. Bishop Atanasije, the administrator of the Diocese of Raška-Prizren and Kosovo-Metohija, served Holy Liturgy with the concelebration of ten priests, including the hegumen of Duboki Potok Monastery, protosyncellos Romilo, and the hegumen of Banjska Monastery, hieromonk Danilo. Some 200 faithful took part in the Holy Liturgy, among them representatives of Zvečan municipality. There were especially many children, who took communion. After the blessing of the slava bread, a banquet for those in attendance was prepared at a nearby restaurant.
After Liturgy in Zvečan, Bishop Atanasije and the priests visited the monasteries of Devine Vode (near Zvečan), Crna Reka and Duboki Potok. In all three monasteries the Bishop Abbot was received by the monastery administrators and brethren, who showed him hospitality as the competent bishop appointed by the Holy Assembly of Bishops. The Bishop stayed briefly in these monasteries, also conversing briefly with the monks.
In Gračanica Monastery Bishop Artemije served Holy Liturgy with the concelebration of Vicar Bishop Teodosije and four priests. A large number of faithful took communion, especially the children, and then the abbess, Mother Efrosinija, and her sisters for all present offered lunch in the monastery refectory. During the Liturgy Bishop Artemije delivered a homily on healing of the blind man and on the significance of the Resurrection of Christ.