Published: 23/02/2010
Modified: 12/10/2020
Bishop Atanasije visits soup kitchens in Vitina and Novo Brdo regions, donation to Health Center in Gračanica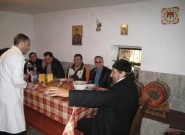 Today (February 23) the Administrator of the Diocese of Raška-Prizren and Kosovo-Metohija, His Grace Bishop Atanasije visited the soup kitchens in the Vitina and Novo Brdo regions accompanied by presbytera Svetlana Stević, the president of the NGO "Majka devet Jugovića" (Mother of the Nine Jugoviches), who runs the soup kitchens.
The purpose of Bishop Atanasije's visit was to learn about the conditions and operation of the soup kitchens, as well as the intent to open yet another (fifth) kitchen, which would add another 250 socially most vulnerable Serbs from the territory of the municipality of Gnjilane to the current number of people served (1200). The villages that will be included in this project include Stanišor, Straža, Kusce, Koretište, Šilovo and Gnjilane itself.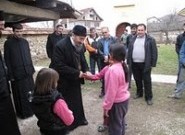 Namely, there are plans to expand the capacity of the existing kitchen in Prekovac, which is the closest of the soup kitchens to the aforementioned Serbian villages, which would reduce the cost of transporting food to the people served, as well as the costs of constructing or adapting another building.
Soon, God willing, a sixth soup kitchen will begin working in Metohija for locations and villages where expelled Serbs have returned to their destroyed homes.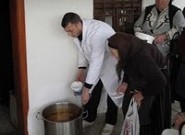 Bishop Atanasije's intention is to compensate the monies that were stolen from the fund for the soup kitchens by Simeon Vilovski and the associates of Bishop Artemije as soon as possible and thus further justify the confidence of donors in the campaign "One SMS for one meal". The continuation of this humanitarian campaign will make it possible for the soup kitchens to continue their work to help the most vulnerable Serbs in the Province survive.
DELIVERY OF DENTAL APPARATUS TO HEALTH CENTER IN GRAČANICA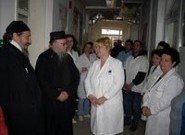 After returning from Novo Brdo Bishop Atanasije, together with Archimandrite Elie Ragot of the Monastère de la Transfiguration, Terrasson, France, and two other French Orthodox persons delivered a dental x-ray machine to the Gračanica Health Center. The apparatus was donated by Dr. Jérôme Galoup from France.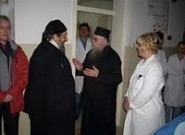 The Bishop and the guests from France were welcomed by Rada Trajković, the director of the Health Center, and physicians Nebojsa Labović, Bogoljub Ivić, Zoran Đorđević, Dragan Todorović and Desa Lukić. Also joining the event was the head of the French mission in Priština, who spent a short period speaking with Bishop Atanasije and Fr. Elie.
Our Orthodox brothers from France extended their visit to Kosovo and Metohija with a visit to Visoki Dečani Monastery, where they are expected to serve the Liturgy of the Presanctified Gifts.