Published: 01/03/2010
Modified: 12/10/2020
Bishop Teodosije receives high delegation of the Italian Parliament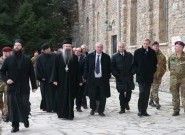 His Grace Vicar Bishop Teodosije of Lipljan received today (Mar 1) in Visoki Dečani Monastery a high delegation of the Italian parliament. Mr. Stefano Stefani, chairman of the parliamentary Foreign Affairs Committee, led the delegation.
During discussion with the Italian parliamentarians Bishop Teodosije spoke about the problems faced by Serbs in Kosovo and Metohija, especially in the realization of general human rights and property rights. Bishop Teodosije mentioned that many Serbian families, especially in Metohija, still could not recover their confiscated or usurped land, which is a form of pressure on the Serbs to sell their land. Later discussion concerned the need to protect the identity and property of the Serbian Orthodox Church in Kosovo and Metohija.
The high delegation of the Italian Parliament is presently visiting Kosovo and Metohija, where it also visited the Italian forces within KFOR.