Published: 12/05/2010
Modified: 12/10/2020
Bishop Teodosije serves Holy Liturgy in St. Basil of Ostrog Church in Leposavić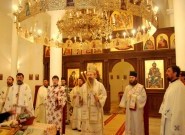 With the blessing of Bishop Atanasije, the administrator of the Diocese of Raška-Prizren and Kosovo-Metohija, the Bishop's deputy, Vicar Bishop Teodosije, served in St. Basil of Ostrog Church with the concelebration of 13 priests and 3 deacons. Some 200 faithful took part in the Holy Liturgy, headed by Mayor Branko Ninić and other members of the municipal administration, who hosted today's celebration. In particular, there was a lot of children who took communion.
Bishop Teodosije delivered a homily on St. Basil of Ostrog and Tvrdoš as a saint who "celebrated and is celebrating God with his words and wonders, teaching us to be the sons of light and joy." The Bishop particularly emphasized that St. Basil was the model of the shepherd who gave up everything in order to receive everything from God "following the example of Christ, who did not came to bring a new science in this world, but with His life and works to serve as a living witness of the Father who sent Him, and to demonstrate that the mystery of love lies in the mystery of serving our neighbor." That is why, said Bishop, the whole of law is based on two commandments: to love God with all our being and to love our neighbors and sacrifice ourselves for them. In this, said the Bishop, lies the significance of the Church, which is a community of love where we live for each other, witnessing and therefore there is no salvation nor joy nor eternal union with Christ outside the Church.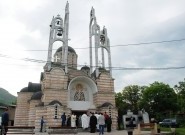 After the blessing and breaking of the slava bread, Bishop Teodosije, together with the mayor and the faithful, attended a children's cross country competition organized on the feast of St. Basil of Ostrog, the patron protector of the town of Leposavić, through the streets of the town. The municipal representatives of Leposavić also organized a lunch on the occasion of the feast of St. Basil of Ostrog, and the Bishop also met with the mayor and municipal deputies who informed him of the efforts of the municipal administration to develop the municipality of Leposavić.
On the day before the feast of St.. Basil of Ostrog Bishop Teodosije visited Banjska Monastery, where he was greeted by the monastery administrator, hieromonk Danilo, and the brotherhood. This afternoon Bishop Teodosije visited Gorioč, returning to Visoki Dečani together with Bishop Atanasije, who served today in the village of Mrkonjići, the birthplace of St.. Basil of Ostrog. Bishop Atanasije arrived from Herzegovina to Visoki Dečani to take part in the celebration of the patron saint's day of the monastery church, the Ascension of Our Lord Jesus Christ.