Published: 07/12/2015
Modified: 02/10/2023
Bishop Teodosije strongly condemned terrorist attack on the Serbian village of Goraždevac this morning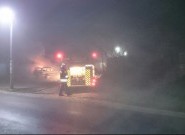 This morning (7 December) at 2.50 unknown attackers opened machine gun fire from the car which was passing through the Serbian village of Goraždevac, Peć Municipality (Western Kosovo). According to an eyewitness the attackers were in a jeep which was driving slowly (10-15 km/h through the village). The attackers first opened fire on the monument of war victims and Serbian children killed in a terrorist attack in 2003 and damaged it seriously. Continuing their drive along the main street they shot at the car of Srboljub Kolašinac and set it on fire and then riddled with bullets the house of Saša Petrović. A few other houses and a news-stand.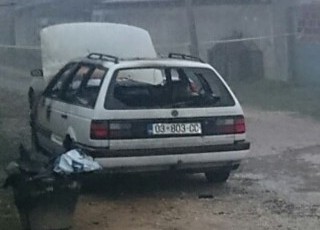 The police and firefighters soon appeared on the spot. Although no one was hurt in this terrorist attack, the Serb villagers are seriously concerned because a similar attack occurred on July 9 this year when a Molotov cocktail was thrown from a speeding car on the monument to war victims. Perpetrators of this as well as many other attack on this village and other Serbian settlements and returnee houses in the Peć region have neer been identified and brought to justice.
COMMUNIQUE OF THE DIOCESE OF RAŠKA AND PRIZREN
SERBIAN ORTHODOX CHURCH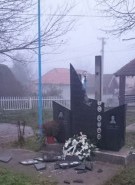 Serbian Orthodox Bishop of Raška and Prizren Teodosije (Šibalić) strongly condemned the terrorist attack on the Serbian village of Goraždevac near Peć (Western Kosovo). In this village in which several hundreds of Serbs live unknown attackers in the early morning hours opened automatic gun fire at several Serb homes and heavily damaged the monument to victims of war and post-war terror. Only six months ago the monument was targeted by a Molotov cocktail but the perpetrators have not yet been brought to justice. This morning attack has brought lots of concern for the villagers as this is the only Serb village which was not destroyed and ethnically cleansed by ethnic Albanian extremists in this part of Kosovo after the armed conflict in 1999. After the terrorist attack in 2003 when two Serb children were killed at the nearby river and several more wounded in 2003, this latest attack, in which no one was injured, nevertheless shows that remaining Serbs in this area are still being targeted by extremists.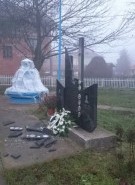 This early morning attack is also the most serious ethnically motivated attack on Serbs in the last months and demonstrates that the security situation in Kosovo and Metohija is getting out of control of local institutions which fail to provide safety for all citizens. Failure of the police and local judiciary to resolve many incidents and attacks on few remaining Serb returnees in this area has intensified an atmosphere of impunity which opens the possibility for new attacks and continuation of terror against remaining Kosovo Serbs.
Bishop Teodosije has made today a public request to Kosovo police and KFOR to do all within their power to prevent new attacks on Serb citizens. Frequent ethnically motivated incidents in Kosovo and Metohija are endangering the future not only of Serbs in the region but of all others regardless of their origin and give evidence of a deteriorating security situation that may escalate.
Prizren-Gračanica, 7 December 2015