Published: 26/03/2018
Modified: 02/10/2023
Updated Communique on the arrest, brutal treatment of political representatives and journalists as well as public humiliation of Serbia's Official in Pristina
Urgent Communique by the Diocese of Raška and Prizren
Serbian Orthodox Church
Gračanica, March 26 2018
Bishop Teodosije – All Kosovo Serbs are deeply shocked by the violence against Mr. Marko Djuric, our citizens and journalists in Mitrovica North today. With such a brutal behavior the future of the entire region is being undermined. The peace and sanity must be preserved!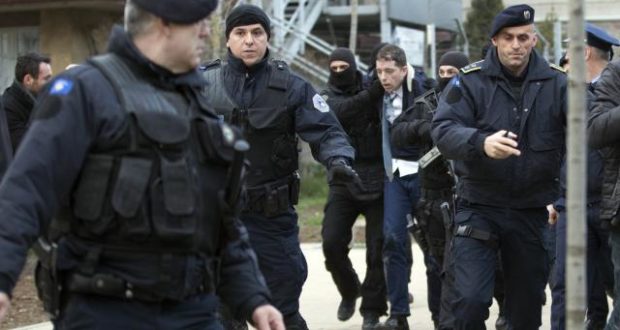 Bishop of Raška-Prizren Teodosije urgently requested from the EU Office in Kosovo and KFOR to urgently mediate in freeing of Mr. Marko Djuric in order to prevent escalation of the situation which may have serious consequences.
Diocese of Raška-Prizren of the Serbian Orthodox Church and all the Serbian people in Kosovo-Metohija with gravest embitterment and concern received the news on brutal action of the Kosovo special police units "ROSU" in North Mitrovica. During the action in which participants were physically attacked by police and several people injured Mr. Marko Djuric, the head of the Serbian Government Office for Kosovo and Metohija was arrested. This is a police action without precedent since 1999. The police reportedly used shock bombs and according to the latest media reports several people were injured. The alert sirens have been heard in Mitrovica North and there is a possibilitz of a serious security situation escalation.
Marko Djuric with several high representatives of the Serbian Govrnment took part in the meeting related to the internal Serbian dialog on Kosovo which is supposed to contribute to finding a peaceful solution for existing problem. Such a reaction of the police and the ROSU specials in Kosovo North, opposite to the earlier agreements between Belgrade and Priština is directly undermining the continuation of dialog and security of citizens. The arrest of Djurić is a huge scandal and provocation for all Serbs who live in this region as Mr. Djurić is one of the highest Serbian state officials heading the Serbia's official delegation in the Belgrade-Pristina dialog in Brussels.
Diocese of Raska and Prizren
UPDATED STATEMENT
In the meantime Mr. Djuric was released from detention and has left Kosovo. The Diocese remains deeply shocked and concerned by a brutal action of the Kosovo police, physical violence against Serb political representatives and journalists as well as public abuse and an attempt of a lynch by Kosovo Albanian mob over one of the highest officials of Republic of Serbia in Pristina. Such a scandalous behaviour is a deep blow to all attempts to improve life of Kosovo-Metohija communities and deserves an outright public condemnation. The tensions must deescalate and the peace preserved.
Violent behavior of Kosovo police out and inside the City hall in Mitrovica today:
Insulting of Marko Djuric by Kosovo Albanian mob in front of the Pristina Court (video by Kosovo Albanain media)
https://www.facebook.com/KKosovaOfficial/videos/1919940134717838/