Published: 24/04/2010
Modified: 12/10/2020
Bishops Atanasije and Teodosije serve Holy Liturgy in Babin Most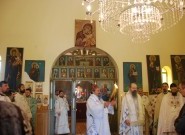 His Grace Bishop Atanasije served Holy Liturgy in the church of the Dormition of the Most Holy Theotokos in Babin Most (Obilić municipality) today with the concelebration of Vicar Bishop Teodosije, archimandrite Tihon, the hegumen of Studenica, protopresbyter-stavrophor Radivoje Panić in Belgrade, hieromonk Timothy, the administrator of Pridvorice Monastery (near Studenica) as well as priests from the Mitrovica and Priština administrative districts (a total of about ten priests). Some one hundred faithful, adults and children, took eucharistic part in the Holy Liturgy, including a group of pilgrims from Belgrade, who arrived with Father Radivoje Panić. According to priest, this was the first Hierarchal Liturgy served in this church in the last twenty years.
This was a special opportunity for the faithful and the bishops and priests to gather for Holy Liturgy in the church where the martyred heroes who perished on the field of Kosovo in 1389 are buried under the altar. It is from here that the army of Holy Prince Lazar set out for battle, and the location where the church is now offers a broad view across Kosovo Polje all the way to Gazimestan, where the fiercest clashes occurred. Upon returning from battle, the surviving warriors buried their dead comrades on this hill, where the church was later built. Bishop Atanasije, speaking in his homily about the Resurrection of Christ, also referred to the spiritual importance of the Kosovo covenant and the historical significance of this location, emphasizing that the Kosovo tradition has its source and meaning solely in the stauropaschal ascetic struggle of Christ.
After Holy Liturgy the residents of Babin Most prepared a luncheon for all present in the parish home.