Published: 11/04/2010
Modified: 12/10/2020
Bishops Atanasije and Teodosije serve on St. Thomas Sunday in St. George Cathedral in Prizren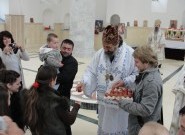 Today on St. Thomas Sunday the Administrator of the Diocese of Raška-Prizren and Kosovo-Metohija, Bishop Atanasije, served Holy Hierarchal Liturgy in St. George Cathedral in with the concelebration of Vicar Bishop Teodosije, four protopresbyters – Milenko Dragičević, Srđan Stanković, Živojin Kojić and Aleksandar Našpalić, and hierodeacon Kiril from Visoki Dečani Monastery. Some one hundred faithful from Prizren, Velika Hoča, Orahovac and Sirinička Župa took part in the Liturgy. For them this was another opportunity to gather in the newly restored St. George Cathedral since Bishop Atanasije had previously served Holy Liturgy in this church on the Sunday of Orthodoxy as well as an evening service before Easter. Singing from the choir was Dejan Ristić, a former student of the Prizren Seminary, along with two students from Greece. Most of the faithful in attendance took communion, including children and the four elderly women who came for the Liturgy from Đakovica. Bishop Atanasije awarded two priests with the office of protopresbyter-stavrophor: protopresbyter Milenko Dragičević (who has served as the parish priest of Velika Hoča for 30 years) and the bishop's deputy for Prizren, protopresbyter Živojin Kojić, thus recognizing the two priests for their dedicated pastoral work. Vicar Bishop Teodosije delivered a festal homily. Attached is a photo gallery and a brief address by Bishop Atanasije.
This text will be replaced
Bishop Teodosije's Homily 9 MB (In Serbian)

Bishop Atanasije took the opportunity upon inviting the faithful in attendance to take communion say a few words about the importance of Communion, especially in these days of Bright Week. "Communion is a mystery of the Kingdom of Heaven and it is not connected with the fast, as false Christians and false spiritual leaders who remind us of Bogumils are saying." The Bishop explained that there is a time of fasting and that fasting is necessary and that he who fasts regularly can take communion regularly because that is what we are taught by the church canons and all of Church Tradition. Continuing his address, Bishop Atanasije commented with regret on the pseudo zealots, especially in the Holy Archangels Monastery near Prizren who "for two years now have not allowed the residents of Prizren and have bound them by conscience not to come to their restored church, which was accepted by the Patriarch when he was Bishop of Niš." Bishop Atanasije called such behavior sectarian and said it is also opposed by Bishop Artemije, who has accepted the decisions of the Patriarch and Synod and respects them. Similar in behavior, said the Bishop as he continued his address, are some monks in the north, who with the preceding total no more than 25-26 but who are creating confusion and turning people away from the order of the church. Particularly active among them is monk Antonije who, the Bishop said, would be read the indictment against him tomorrow, defrocked and excluded from the church community because he has been causing trouble in the Church for five or six years, in Belgrade, in the Diocese of Šabac and Valjevo, as well as in Kosovo and Metohija. Like in previous days, the Bishop emphasized that everyone without malice, hatred or slander in his or her mind and heart should take freely take communion during Holy Liturgy. Pseudo zealots who say there is no communion without fasting "supposedly adhere to some sort of fast and some Orthodox rules, but they slander, lie, spread rumors and none of that bothers them." The Bishop compared such pseudo spiritual leaders with Pharisees "who take the keys of the kingdom and neither enter it themselves nor allow others in."
This text will be replaced
Bishop' Atanasije's Address 5 MB (in Serbian)