Published: 06/05/2010
Modified: 12/10/2020
Bishops Atanasije and Teodosije take part in celebration of the patron saint's day of St. George Cathedral Church in Prizren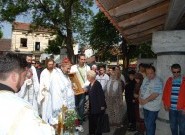 His Grace Bishop Atanasije served HolyLiturgytoday in the church of St. George the Great-Martyr in Prizren with the concelebration of Vicar Bishop Teodosije ofLipljan and the priestsof the Diocese of Raška and Prizren. This is the first celebration of the patron saint's day of the Cathedral Churchof the Diocese of Raška-Prizren and Kosovo-Metohija since the church was re-consecrated and again placed into liturgical function. Several dozenfaithful from Prizren, Velika Hoča, Štrpce, Mitrovica and Priština took eucharistic part in the Holy Liturgy. AfterHoly Liturgy and the consecrationof the slava cake,the faithfulprepared a lunch for all in attendancein the newly restored parishhome.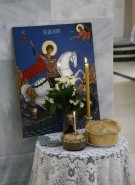 Bishop Atanasije in his festal homily spoke mostly about St. George the Great-Martyr, the patron saint of the church and the town, and his veneration throughout the Orthodox world. With the approach of the feast of Pentecost, the Bishop also spoke about the joy of the Resurrection, which we should live and continuously celebrate in our lives, rejecting rumors and slander, because "we have God the Creator of Happiness, God the Resurrector, God the Bringer and Creator of Life and true Philanthropist of humanity… God who is divine in His saints, such as St. George the Great-Martyr and Victory-Bearer."
Bishop Atanasije wished Bishop Teodosije, and all those who celebrate the feast of St. George a happy patron saint's day, also sending prayerful greetings to the brotherhood of Đurđevi Stupovi (the Pillars of St. George) Monastery near Novi Pazar, which today also celebrates the monastery's patron saint's day.