Published: 14/05/2010
Modified: 12/10/2020
Bishops Atanasije and Teodosije visit Serbs in Žač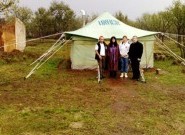 During Holy Liturgy on the patron saint's day of Dečani Monastery, news arrived that Serb returnees in the village of Žač, Istok municipality, were targeted by automatic gunfire at about 11 o'clock last night from a nearby road, and the closest tent was riddled with bullets. By God's providence, the seven or eight Serbs remaining in Žač (about twenty other returnees have temporarily retreated to northern Serbia due to previous attacks by Albanians) were in an adjacent half-destroyed house and with them were several KFOR soldiers (Slovenes) who, however, did nothing to stop the shooting nor begin the search for the perpetrators.
One can assume with almost absolute certainty that this was done by neighboring Albanians, who have been attacking these Serb returnees for the past two months, even beating up an elderly man, and holding demonstrations repeatedly on the road in front of the tents and stoning the tents, while their supposed guardians, the KPS police, took no action to protect the Serbs.
In the meantime, the Albanians have also filed several dozen complaints with the Court in Peć against these Serb returnees. The Serb returnees told us that they are not guilty of anything, and that they have committed no deed against anyone in the past nor present. This is an obvious attempt by the neighboring Albanians to usurp their fertile fields in this wonderful Osojane plain, some of which they had already occupied in previous years.
Before our arrival in Žač, the KPS police had already been replaced by the EULEX police, and the Albanian mayor of Istok had arrived with his associates. As well, the mayor of the Serbian municipality of Istok had arrived, and soon afterwards an Italian KFOR officer with two soldiers.
Bishops Atanasije and Teodosije spoke with their Serbian brothers, who were visibly distraught but determined to stay in their homes. The bishops brought some food for the returnees and asked about little Jovana, who in the meanwhile left with her parents to seek sanctuary from attacks. The bishops asked the Italian officers, as well as the Serbian and Albanian mayors of Istok municipality, to protect these innocent people from brutal persecution and expulsion from their ancestral homes. Bishop Teodosije will soon speak with a higher command of KFOR to raise the security of the Serbs in Žač to a higher level.