Published: 04/12/2019
Modified: 02/10/2023
With blessing of Bishop Teodosije Dečani monks brought aid to the suffering people of Albania after the earthquake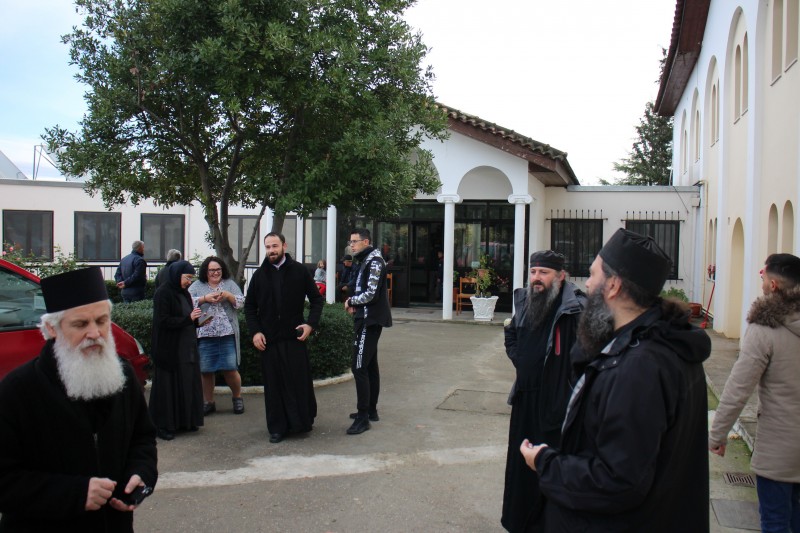 Arrival to St. Vlash Monastery near Durres
Two Dečani monks, Fr. Andrej and Fr. Petar, with the blessings of Bp. Teodosije of Raška-Prizren and of Abbot Sava, visited their Orthodox brothers and sisters in Durrës and Tirana who have been in very difficult straits following the recent destructive earthquakes that have struck the region. That morning, they first visited the Theological Academy and Orphanage of St. Basil and Holy Myrrhbearers Monastery, both located near Durrës, where they were warmly received with much gratitude by Bishop Nikolla of Apollonia and Fier, and Abbess Rakela.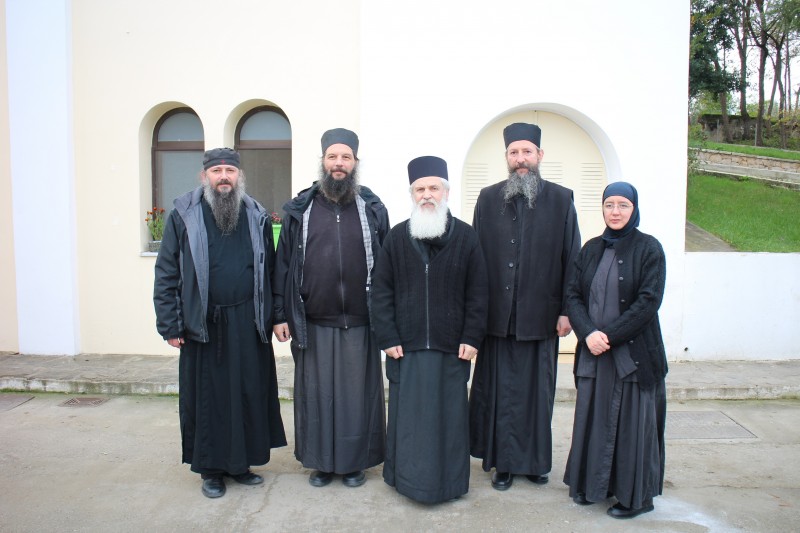 With Bishop Nikolla, abbess Rakela and Fr. Seraphim from Ardenica Monastery at St. Vlash
Our monks brought both monetary and food aid, since around 200 people, both Muslims and Christians, who live near the Monastery and the Academy in Durrës have been left homeless because of the earthquake. Our monks also conveyed the solidarity which Orthodox Christians in the Diocese of Raška-Prizren share with their suffering brethren in Albania. Additionally, two days after the destructive earthquake, His Holiness Patriarch Irinej of Serbia sent out a message of solidarity. Bishop Teodosije also sent a message of support, which is what was the impetus for our first humanitarian aid mission in Albania, and hopefully soon we will be able to send more help to the suffering people of Albania. (Message of Patriarch Irinej to Archbishop Anastasios 
http://www.spc.rs/eng/molitveno_saucheshtshe_albanskom_arhiepiskopu_narodu
)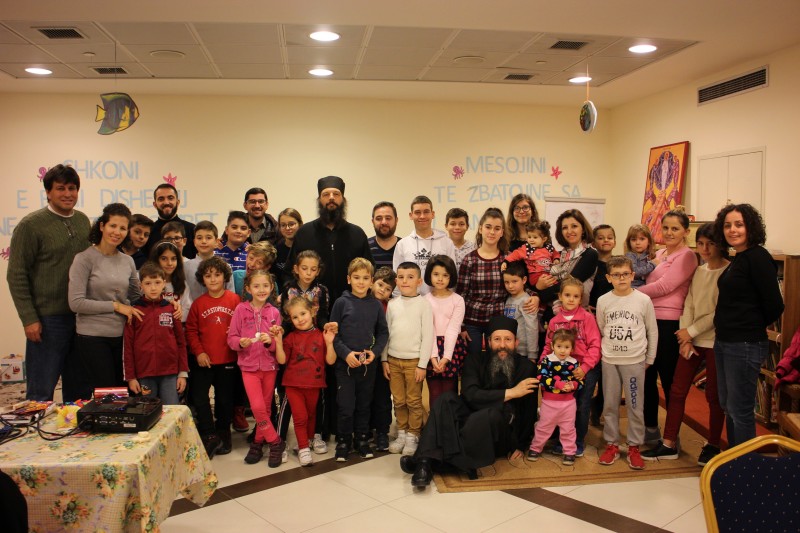 Fr. Andrej and Fr. Petar with children at the Orphanage at St. Vlash Monastery, Albania
Archdeacon Spiro Topanxha welcomed our monks in Tirana and showed them the city's churches, as well as an Orthodox social services center with a play area for children, where children are cared for by Orthodox volunteers. Everyone expressed their thanks for our concern and prayers for their Church and people. Our monks were supposed to be received by Archbishop Anastasios as well, but he was occupied at the time as Metropolitan Amfilohije of Montenegro had also personally brought humanitarian aid to the Albanian people from his diocese.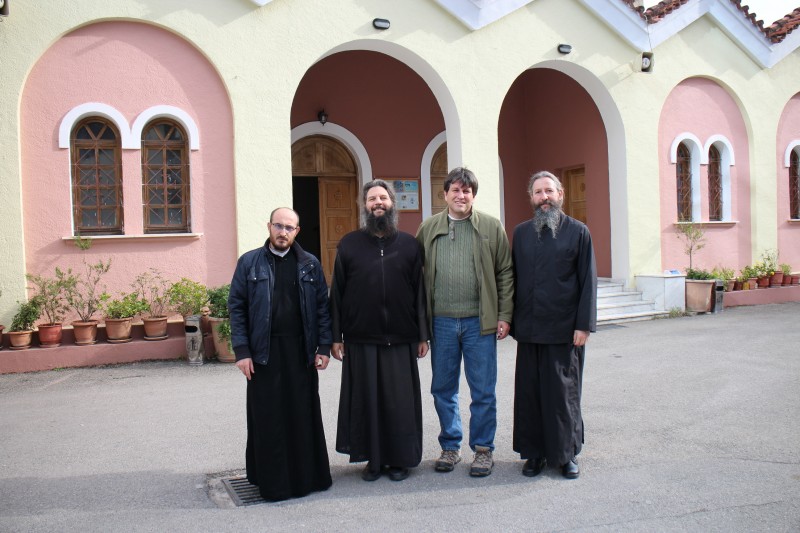 With Archdeacon Spiro Topanxha and Nathan Hoppe
According to a post on the Autocephalous Orthodox Church in Albania's official Facebook page, apart from messages of support from other Orthodox churches following the destructive 26 November earthquakes, they also have begun to receive material aid as well. Their post states that a load of food arrived at St. Basil's in Durrës from Dečani Monastery in Kosovo, along with €2,000 to help those who are in need. The post continues on to say that aid had also arrived from Montenegro along with Metropolitan Amfilohije. Additionally, more material aid arrived from Kythros, Katerini, and Platamonas in Greece, which was collected by the faithful there and sent via the Greek Macedonian Center for Emergency Aid. More help is being gathered in other parts of Greece as well following a special appeal from Archbishop Anastasios of Albania on Greek television. From the FB page of the Archdiocese of Albania 
– 
https://www.facebook.com/121840944657599/posts/1423589344482746/
News from Decani Monastery website: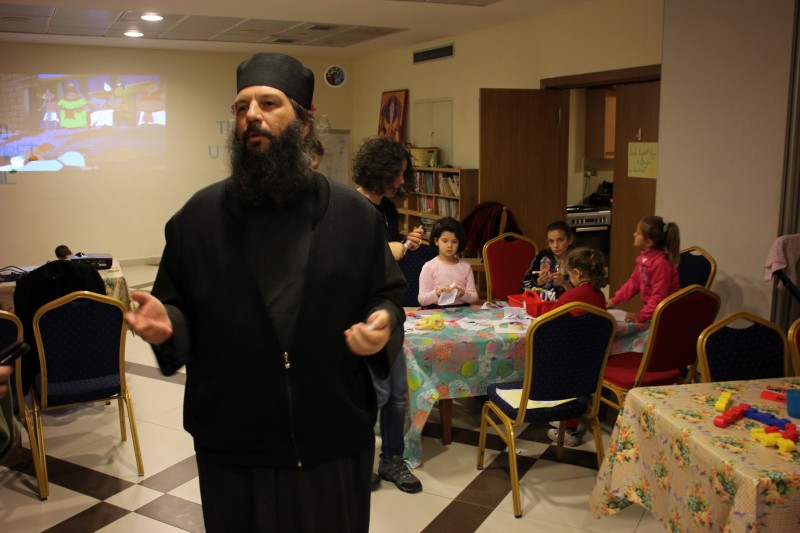 Fr. Andrej with the children at the Orphanage