Published: 12/10/2010
Modified: 12/10/2020
Celebration of St. Kyriak's Day (Miholdan) in Velika Hoča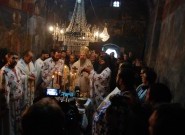 In Velika Hoča , near Orahovac, the annual feast-day of St. Kyriak (Miholdan) was celebrated to mark the end of the wine harvest season. The Holy Liturgy was served by Bishop Teodosije at St. Stephen's church. together with Fr. Milenko Dragicevic, Fr. Dragan Kojic, Abbot Stefan from Zociste, Fr. Radoslav Jankovic, Fr. Aleksandar Naspalic, Fr. Stevan Markovic, Fr. Sava Smigic, Fr. Djordje Knezevic as well as hierodeacon Martinijan from Zociste. The Liturgy was attended by more than 200 believers from the region and other parts of Serbia.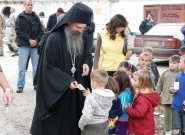 After the Liturgy Bishop Teodosije cut the slava cake, and Fr. Djordje Knezevic, donated his birthplace church an icon of St. Kyriak cut in stone. After the service Bishop and the clergy were served at the parish house. In the meantime the celebration with trumpeteers began in the streets. The villagers offered their traditional products, wine and grapes, to many guests who gathered in the village. Bishop Teodosije and the priests visited the old house "Saraj" where the artists from the Art Colony opened an exhibition. After the exhibition the children performed folklore dances and sang traditional songs. The poets also recited their poetry. At the end the most of the people joined for the festal lunch.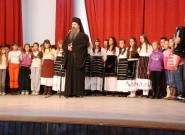 Velika Hoca is an old Serbian town in Metohija (the Western part of Kosovo Privince) with 13 medieval churches. This area is one of the most famous wine-regions in the country. The wine is produced here since the time of the Medieval Serbian kingdom and most imporatant Athonite and Serbian Imperial monasteries had their wineyards here. Until today the famous Decani Monastery Winery is still active producing the well known monastery wines "Vranac" and Cabernet Sauvignon. However, the village lives completely in ethnic Albanian surrounding and due to security reasons only the nearby wineyards (500 m. around the village are regularly cultivated. Many good quality wineyards were destroyed and burned during and after the war and wine production is comparably smaller than in the pre-war period.