Published: 07/01/2011
Modified: 12/10/2020
Central central Christmas Eve ceremony in Kosovska Mitrovica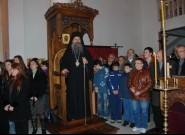 Central celebration of Christmas Eve in Kosovo and Metohija was held in front of St. Demetrius church in Kosovska Mitrovica. After the vigil which was served by Bishop of Raška-Prizren Teodosije, Christmas Yule-log was burned in the presence of the multitude of the faithful. In addition to the clergy of the Mitrovica region the ceremony was attended by about 2000 believers who filled the plateau around the church that dominates the northern part of the town.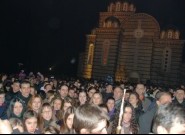 Ceremony in Mitrovica was also attended by Deputy Prime Minister Božidar Đelić, Minister for Kosovo and Metohija Goran Bogdanović, head of the Mitrovica district Radenko Nedeljkoviž and Mayor of Kosovska Mitrovica Krstimir Pantić who on behalf of citizens of Kosovska Mitrovica, welcomed Bishop Teodosije and expressed their joy that so many people gathered to mark the Christmas Eve.
Bishop Teodosije addressed the present congregation with a sermon in which he spoke of the meaning of the burning Yule log and the joy of the Christmas Eve. "Tonight as we are burning this Yule we raise our prayer to the Lord to shine upon us with his divine light and warm us with his grace. We pray that the peace of Christ should dwell in us, our families, this city, and wherever there are people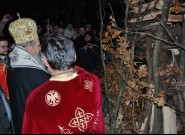 of good will. We pray to be filled with the love of God the creator and mutual love to one another, the love which Christians don't relinquish even when they are suffering on the cross. With this hope they persevere because they know that the Lord will console them. "
After the burning of the Yule log the priests of St. Demetrius' church organized distribution of the boiled "rakija" (brandy) to the people. The Yule-log ceremony was performed throughout the Diocese of Raška-Prizren from Novi Pazar to Štrpce and Metohija enclaves. This year the Yule-log was burned for the first time in Istok, where the church has been recently restored and a parish re-established. The ceremony was attended by approximately a hundred returnees from the nearby villages.