Published: 13/02/2010
Modified: 12/10/2020
Criminal proceedings initiated against archimandrite Simeon Vilovski and Predrag Suboticki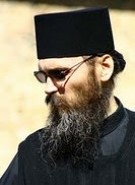 The Diocese has been informed today that criminal charges were filed today in the High Prosecutor's Office in Belgrade against clergy member of the Diocese of Raska and Prizren archimandrite Simeon Vilovski and former member of the Diocese executive council Predrag Suboticki (better known for his former company Rade Neimar). Criminal proceedings were initiated on the basis of an investigation conducted by a commission of the Holy Synod of Bishops of the Serbian Orthodox Church due to founded suspicions that Vilovski and Suboticki were involved in a series of illegal activities. According to state officials, last night (Friday, February 12) Vilovski fled from Gracanica to Macedonia by way of the Blace crossing using an unknown vehicle with Macedonian license plates. Early in the morning the next day (Saturday, February 13) he crossed the border between Macedonia and Greece at Djevdjelija in another vehicle with Belgrade license plates.
The police investigation will continue intensively and it is expected that the Greek authorities will soon be asked to extradite the suspect so he can answer to charges before judicial institutions of the Republic of Serbia for embezzlement of money from funds for the hungry in Kosovo and Metohija and other crimes. Vilovski's flight abroad, when he realized that his financial transactions could not be hidden best demonstrate his responsibility and the responsibility of those who for years permitted various illegal actions and rewarded them with church titles contrary to the persistent demands of the Holy Assembly of Bishops of the SOC to dismiss Vilovski from all church duties in the Diocese of Raska and Prizren.
A commission of the Holy Synod of Bishops for the investigation of financial operations will soon continue in order to fully examine all other issues related to concrete operations and manipulations of the leading people in the Diocese.