Published: 25/02/2010
Modified: 12/10/2020
Families of Herzegovina for the Families of Kosovo Campaign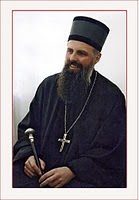 Dear brothers and sisters, a happy Great Fast to you and that the Holy Resurrection of Christ may bring us joy. Our God-protected Diocese is neither large nor rich in material goods but it is very rich in spiritual gifts, a great history, and especially in martyrs, saints, poets and heroes. Herzegovina and Herzegovians not need explanations of what Kosovo and Metohija is and where it is.
Recently, upon the request of His Beatitude the Serbian Patriarch Irinej and the Holy Synod of Bishops, our Bishop Atanasije has assumed a very difficult church duty – to lend courage and comfort to the Orthodox people in Kosovo and Metohija, just as he lent courage and comfort to us during the terrible times of the past war. We remember well that he did not give us strength only with holy services and divinely inspired homilies; he also fed us with bread and oil, without even mentioning the care he devoted to the wounded and to war orphans. Here is an opportunity for us to pay him back for his selfless and effective love, not by giving him personally a gift but by giving a gift to those poor people in Kosovo and Metohija for whom he is now responsible by the blessing of the Church. Therefore, let everyone, in accordance with his or her ability and goodwill gather and bring to their local parish home hygienic materials, oil, cans, pasta, school supplies, etc.
The campaign to collect aid for the people of Kosovo and Metohija called Families of Herzegovina for Families of Kosovo will run from February 26 to March 14, 2010.
We need all Church parishes, within the scope of their components, to organize the collection within the aforementioned period. Aid packages should include packaged foods with a longer shelf life, which are not in breakable containers (oil, pasta, sugar, fruit juices in cartons, canned food, rice, beans, etc.), and basic hygiene items (properly packaged and separated from food items). Packages should be properly packaged for transport, and the first and last names of the sender as well as the content of the package should be written on them for easier handling. For additional information please contact your local priest.
On behalf of the impoverished Orthodox population of Kosovo and Metohija, we sincerely thank you.
May the blessing of the Lord be with you all.
Bishop of Zahumlje and Herzegovina
Grigorije