Published: 14/10/2010
Modified: 12/10/2020
Feast-day of Sokolica Monastery, Bishop Teodosije laid the foundation stone for the church in Srbovac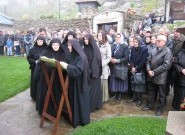 For the Feast-day of the Shroud of the Virgin Mary, the annual feast-day of the monastery Sokolica, Auxilliary Bishop Teodosije served the Divine Liturgy today in the monastery with the concelebration of Fr. Milija Arsović, Fr. Branislav Dikić, Fr. Nikola Vucetic, hieromonk Fotije (the abbot of the Devine Vode monastery) and hierodeacons Siluan of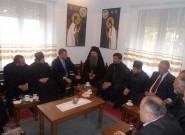 Grigoriatis and Peter Dečanac. The Divine Liturgy was attended by about 200 faithful who gathered in this sanctuary, along with the Abbess Makarija and her sisters. The Divine Liturgy was attended by Dr Dragisa Milovic, the mayor of Zvecan and his associates. After the consecration of the Slava cake Mother Makarija offered a lunch fro all attendees of the celebration at the Monastery refectory.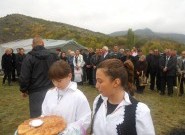 In the early afternoon hours Bishop visited the village of Srbovac, municipality of Zvecan to officially lay the foundation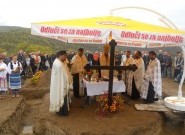 stone for the new village church, which will be dedicated to the Resurrection of Christ. Bishop Teodosije and priests of the Mitrovica region were warmly welcomed by the people with children who traditionally offered to the Bishop the bread and salt. After laying the foundation in Srbovac, Bishop Teodosije visited the Monastery of Pec Patriarchate that celebrates the today's feast-day to congratulate the holiday to Abbess Fevronija and her sisters. Today, the Shroud of the Holy Virgin was solemnly celebrated in the monastery and many pilgrims gathered in order to share the joy with the Pec nuns.