Published: 26/08/2019
Modified: 05/11/2020
Greek Byzantine Choir in Dečani Monastery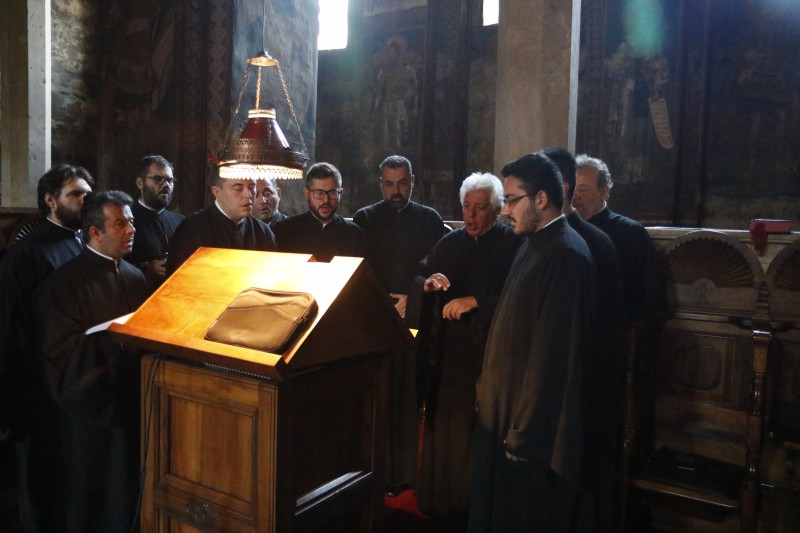 With the blessing of His Grace Bishop Teodosije of Raška-Prizren, members of the world-renowned Greek Byzantine Choir (Ελληνική Βυζαντινή χωροδία) chanted the responses to the Divine Liturgy at Visoki Dečani Monastery yesterday. The choir is known for having been founded and directed by the now-departed Lykourgous Angelopolous. At yesterday's Divine Liturgy, the choir was led by its current director, Georgios Konstantinou, together with Fr. Jerotej, a hieromonk and protopsaltis from Kovilj Monastery in northern Serbia, who used to study Byzantine chant in Athens with Angelopolous. The choir had a huge influence on the renewal of traditional Byzantine chant not only in Greece but in the whole world and has performed in many countries around the world.

This year, the choir was invited to sing at the Medimus Festival of Medieval Music held in Prizren, where they sang in the atrium of Christ the Savior Church. Yesterday was, however, set aside for taking part in the Divine Liturgy at Visoki Dečani Monastery, with the Monastery's abbot, Archimandrite Sava, serving along with Archpriest Radivoje Panić (acting rector of the Serbian Orthodox parish in Brussels), Archimandrite Ilarion, and the Dečani hieromonks.

A few clips of the Greek Byzantine Choir singing in Dečani can be found on the decani.org Youtube channel.
9 Video recordings of the Greek Byzantine Choir chant at Dečani Monastery are also available on the other YouTube channel of the Dečani Monastery
1. Antiphons https://youtu.be/tzhBGEaelJA
2. Trisagion Hymn https://youtu.be/BTDBkXnCFUI
3. Cherubic hymn https://youtu.be/e4OURd1xj8Y
4. From the Canon of the Eucharist https://youtu.be/5X1q9JKboCc
5. We sing unto Thee https://youtu.be/TtsSQ-8oPts
6. Axion Estin https://youtu.be/2n21kANmiZs
7. Koinonikon1 https://youtu.be/BQ4Q-JfBIbc
8. Koinonikon 2 https://youtu.be/BN0FZQ5C4J0
9. Dismissal and the sermon of the Abbot https://youtu.be/kRw-RSX2SXE
1. ANTIPHONS
2. TRISAGION
3. CHERUBIC HYMN
4. FROM THE CANON OF THE EUCHARIST
5. WE SING UNTO THEE
6. AXION ESTIN
7. KOINONIKON 1
8. KOINONIKON 2
9. DISMISSAL