Published: 20/03/2010
Modified: 12/10/2020
Holy Hierarchal Liturgy served in Bogorodica Ljeviška Church for the first time since the March Pogrom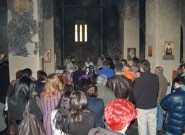 Prizren – Gračanica, March 20, 2010
In the Bogorodica Ljeviška (Holy Virgin of Lyevish) Church in the center of Prizren, Holy Liturgy was served today for the first time since the March Pogrom by His Grace Bishop Atanasije with the concelebration of Vicar Bishop Teodosije and several priests from the Dioceses of Raška-Prizren and Zahumlje-Herzegovina. Taking eucharistic part in the Holy Liturgy were the sisters of Žiča Monastery with their abbess, mother Jelena, the sisters from the Peć Patriarchate and Končul Monastery, as well as the faithful from the Prizren region.

This text will be replaced
Video report, B92 by Andrija Igic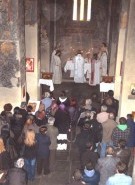 In front of about one hundred faithful, Bishop Atanasije, the administrator of the Diocese of Raška-Prizren and Kosovo-Metohija, and Vicar Bishop Teodosije first conducted a Lesser Consecration of the church. "In the church of the Mother of God, which is centuries old, much suffering and renewed, we celebrate her holiday, here, in this wounded church. It is not the first time, may God grant that it is the last time that it suffers such wounds but the external beauty of this church and even more its internal beauty link heaven to earth," said Bishop Atanasije in his sermon.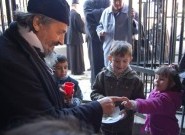 The Bogorodica Ljeviška Church was torched on March 17, 2004, and its reconstruction has still not been completed with work on cleaning and conservation of damaged frescoes still to be done. Bishop Teodosije emphasized the importance of the renewal of this church and other churches in Kosovo and Metohija in the context of renewal of spiritual and church life. "We are trying to rebuilt the churches and that is our obligation, our holy kings built them and left us the legacy to preserve them. We cannot preserve them if we do not visit them, if we are not present here; if we are not here, then these will not be living churches; they will be monuments and museums. May God grant that this does not happen because we do not need museums and monuments, we need living churches, places of prayer where we will serve the Holy Liturgy and take communion in the Holy Mysteries and save our souls." Bishop Teodosije stressed that only together and in mutual forgiveness can we serve the Lord for if there is no love among us then the Lord will not see us as His servants and will not grant us the kingdom of heaven.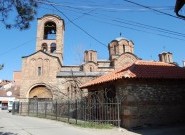 Refreshments were served for the faithful, the clergy, monks and nuns in the narthex of the Bogorodica Ljeviška Church where Bishop Atanasije announced that help would soon arrive from Herzegovina for the Serbs in Metohija and Štrpce, collected with his faithful by Bishop Grigorije.
After the Liturgy in Bogorodica Ljeviška the Bishops, clergy, monks and nuns visited St.. George Orthodox Cathedral in Prizren, and then Holy Archangels Monastery.
This text will be replaced