Published: 22/01/2013
Modified: 12/10/2020
Parallels and Reminders: Beside Serbian Holy sites and cemeteries in Kosovo Albanian extremists desecrated the old Jewish cemetery in 2011
Parallels and reminders
Editorial comment as a memorial prayer at the desecrated tombstone of Jelica Stevanovic, the mother of Fr. Atanasije of Decani Monastery
Looking at the scenes of vandalism at the Orthodox cemeteries from Prilužje to Prizren, including those which are deeply overgrown with weeds and covered with garbage and rubbish, any normal person would ask the question – What kind of society this is and in which direction it is going when such vandalisms are becoming a part of everyday life. It is true that a number of old Serbian churches and cemeteries have survived until our own days in Kosovo, indicating that old Albanians and Ottomans, regardless of their known lack of affinity to Christians, were not systematically destroying their shrines and desecrating their graves. According to the codes of the Albanian society from those times desecration of graves was considered a cowardice because the dead could not defend themselves. After all, even for those who did not believe the Koran which teaches that the harassment of the deceased is a sin, a superstitios fear of desecrating cemeteries is a powerful deterrent.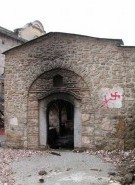 However, we live in a different time today. For more than 13 years in Kosovo Albanian nationalists are leading the war against the living and the dead, against everything that reminds them of what they are not. In comparison to freqeunt repetition of official statements that the desecration of graves is not a part of the Albanian tradition, with all due respect to those who send these messages, still many show a quite a different image of Kosovo to the world. It suffices to visit an isolated Orthodox cemetery or read a publication about desecration of Serbian cemeteries published in September 2011 by the OSCE to understand the absence of basic moral and cultural values ​​among a good part of Kosovo Albanians today.
It would be unfair to mention the destruction and desecration of Serbian cemeteries without mentioning the desecration of one of the two last remaining Jewish cemeteries in Kosovo in 2011. Below you can read the Associated Press report on this event. Of course, the incident was followed by an extremely strong reaction of the U.S. Embassy which shortly afterwards signed with Pristina a separate agreement on the protection of cultural sites related to those who perished in the Holocaust. There are no more Jews in Kosovo, as the AFP text say, because after the war in 1999 they fled to Serbia or Israel (see below). Nazi Swastikas in a Jewish cemetery did not however appear accidentaly. Yesterday we could see the scene of an unprecedented savagery when local KLA veterans demolished an anti-fascist WW2 Memorial in the center of Vitina. Swastikas were also painted on desecrasted Serbian churches after the March 2004 riots (see above right) as they were in the Second World War. All that shows a deeply distorted consciousness of a part of the Kosovo Albanian population. The copy-paste-like statements of their political leaders cannot easily conceal this reality nor calm them down.
This text will be replaced
Not so long ago – Albanian extremists attack the Serbian church of St. Andrew in Podujevo, March 2004..

While Western observers in Kosovo as well as many people around the world may see the scenes of desecrated graveyards, there is a serious question what is going on in Europe now 1700 years after the Edict of Milan. We live in a Jubilee year and celebrate the cessation of persecuton of Christians and the tolerance edict published by Holy Emperor Constantine the Great in 313. This important legal act is a basis for the contemporary legislation on human and religious rights and freedoms which grants everyone freedom to practice their religion and preserve their identity in peace. Everyone, everywhere.. but, still not in Kosovo, which remains infamous for its "contribution" to the modern history of vandalism and culturally is much closer to societies far from the European continent (eg Libya today, where the mob broke crosses and Stars of David of allied soldiers from the WW2) . Crosses burned in Priluzje, video of the demolition of St. Andrew church in Podujevo 2004 (above), as well as swastikas with their message that even dead Jews have no place in Kosovo clearly show the dark side of the Kosovo's society today. Instead of deceiving the world with politically correct and template-based statements, Kosovo Albanian leaders must seriously ask themselves which path is their youth taking today, and whether the unrestrained nationalism and historical myths can build a modern society in Europe today. It remains to be seen, because the actions on the ground speak much louder than words.
Fr. Sava Janjic
————-
Beside the old Jewish cemetery which is mentioned in the AP Article below there is a new Jewish cemetery, just next to the Serbian Orthodox cemetery in Pristina. This Jewish cemetery was desecrated several times to (because most of the Jews bore Serbian names and surnames). The fate of this cemetery was particularly covered by KIM Radio (LINK in SERBIAN)
Јewish cemetery in Kosovo capital desecrated
'Jews out' spray-painted on memorial for Jewish families who perished during World War II. President: Act in complete contradiction with values of our people
http://www.ynetnews.com/articles/0,7340,L-4156092,00.html
Associated Press
Police in Kosovo are investigating who sprayed swastikas on dozens of tombstones in a Jewish cemetery recently restored by American and Kosovan students, a spokesman said Thursday.
Brahim Sadrija said police had sealed off the cemetery in the capital, Kosovo, and are looking for clues. The vandalism is believed to have happened Tuesday.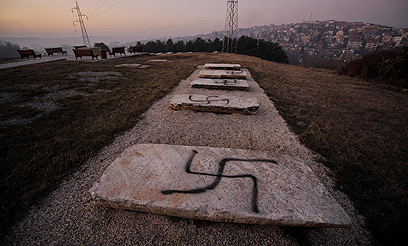 Desecrated tombstones (Photo: AFP)
Sadrija said he could not disclose more details pending the ongoing investigation.
In June, a group of students from Dartmouth College in New Hampshire and their peers from the American University in Kosovo restored the neglected cemetery by clearing debris from around the graves and cutting overgrown grass.
Rabbi Edward S. Boraz of the college's Roth Center for Jewish Life held a dedication ceremony at the memorial site, with students taking turns to read out the names of Jewish families from the region who perished during World War II.
On Thursday the hate graffiti "Jud Raus" – a misspelling of the German "Juden Raus," which means "Jews out" – could still be seen at the foot of a memorial.
President Atifete Jahjaga and Prime Minister Hashim Thaci condemned the act.
"The damaging of cemeteries presents an act in complete contradiction with the traditions and values of the people of Kosovo, based on tolerance and full respect for all the dead and all the monuments," Jahjaga said in a statement.
Thaci described the desecration as "a cowardly act."
The condemnations follow that of US Ambassador to Kosovo, Christopher Dell, who urged authorities to find out who committed the vandalism.
"The hateful act was an offense not only against the families of persons buried there and of the Jewish community in Kosovo and beyond, but also an offense against Kosovo's multiethnic state and society," Dell said in a statement.
"The act is one of contempt for the most basic norms of tolerance, coexistence, and respect, and cannot be tolerated."
Some 300 Kosovo Jews died at Bergen-Belsen concentration camp in Germany during World War II. After the war, Kosovo's small Jewish community dwindled. The few that remained left forIsrael and Serbia during and after the 1998-99 Kosovo war.
In a statement sent to The Associated Press an American Jewish group branded the desecration of the cemetery as "a heinous act."
"Holocaust survivors are shocked to learn that a sacred resting place of our martyrs has been profaned by vandals using graphic symbols of Nazi hate," Elan Steinberg, vice president of the American Gathering of Holocaust Survivors and their Descendants said.
Kosovo, a former Serbian province, seceded from Serbia in 2008 but Belgrade has vowed never to accept the independence of the majority ethnic Albanian territory.
Kosovo is overwhelmingly Muslim, but has a Roman Catholic minority.