Published: 19/03/2016
Modified: 02/10/2023
Prince Charles visited St. George's Serb Orthodox Cathedral in Prizren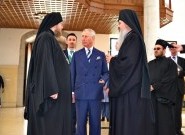 Bishop of Raška and Prizren Teodosije and the Abbot of Visoki Dečani Monastery Archimandrite Sava received today at the cathedral of St. George in Prizren, together with clergy, seminarians and the faithful people His Royal Highness Prince of Wales. At the entrance to the church courtyard the Prince was greeted by Milica Djordjević, the only Serbian child in Prizren who gave him flowers. In the church Bishop Teodosije greeted Prince Charles and spoke about the importance of Serbian Orthodox Christian sites in Kosovo and Metohija, the suffering which the Church and her people have gone through in the previous post-war years as well as the reconstruction of the desecrated sites. The Bishop especially highlighted the reconstruction of the Prizren Orthodox Seminary. The Prince of Wales cordially talked to seminarians who sang to him the Resurrection troparion in Serbian and English.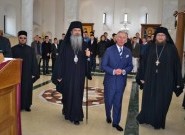 Bishop Teodosije and Fr. Sava showed the Prince a small exhibition of photos presenting the damage inflicted to the Orthodox Christian heritage in Kosovo but also the process of reconstruction. The Bishop expressed gratitude to the British Government for helping the reconstruction of the returnee homes in Prizren. The Prince was informed that 16 years after the end of the armed conflict 200.000 Serbs still cannot return to Kosovo and Metohija and that out of 8.000 pre-war Serb population of Prizren only twenty elderly people remain in the city. Prince Charles talked for a couple of minutes with a group of Serb returnees to Prizren who expressed their firm wish to stay in their home town despite the tragedy they experienced in 2004 when all Serb churches and homes in Prizren were burned.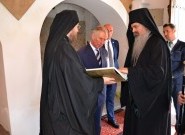 At the end of his visit Prince Charles was shown the chapel of St. George from 15th century built by the Runović family which was burned and desecrated in 2004 riots. He expressed particular interest for the restoration and conservation of damaged frescoes in old Prizren churches which was performed by Greek, Serbian and Italian experts. In memory of his visit Bishop Teodosije gave the Prince a large monograph of Dečani Monastery in English and informed him about most important Serbian Orthodox churches in Kosovo and Metohija which due to their importance and artistic value have been inscribed in the list of the World Cultural Heritage of UNESCO.
Bishop Teodosije and Fr. Sava expressed hope that the Serbian Orthodox heritage in Kosovo and their historical identity will be adequately protected by strong international guarantees.