Published: 20/04/2017
Modified: 02/10/2023
Regarding the most recent threats to Visoki Dečani Monastery
The Most Recent Threats to Visoki Dečani Monastery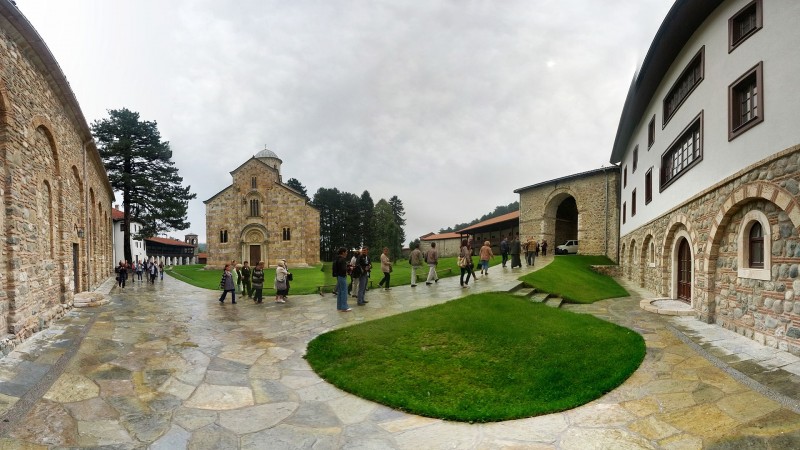 Dečani Municipality has been delilberately rejecting the implementation of the final ruling by the Constitutional Court of Kosovo which in June last year confirmed the property rights of Visoki Dečani Monastery. Instead of respecting the law a Kosovo-Albanian nationalist group is threatening the Monastery for weeks through the Kosovo press and has announced the blockade of the Monastery. Serbian Orthodox Church welcomes the communique by EU Office in Kosovo issued today requesting the immediate implementation of the Constitutional Court decision and condemning the threats with blockade of this Christian site.
"Every attempt to block the access to the Monastery for pilgrim and tourist groups in the following days will be a blatant example of the law violation and an indicator of religious and ethnic intolerance in this Municipality which remains unchanged for the last 18 years. Deliberate obstruction of the Constitutional Court decision and threats with violence against a world-wide known Christian and UNESCO site is damaging for the future of all citizens of Kosovo and Metohija", it is said in the statement by the Diocese of Raška and Prizren, Serbian Orthodox Church today.
EU OFFICE COMMUNIQUE
The EU is concerned by a continued lack of implementation of the 20 May 2016 Constitutional Court ruling on the land dispute case in Decan/e. Decisions by Kosovo's highest legal authority are conclusive and must be implemented. The EU calls on authorities at all levels to demonstrate respect for the rule of law as a fundamental democratic principle. Full implementation of the ruling should take place without delay. The EU further condemns any actions to block access to or otherwise disrupt life at the Visoki Decani monastery.