Published: 11/04/2010
Modified: 12/10/2020
Večernje Novosti daily: Towers rising on schedule, work on Đurđevi Stupovi Monastery continues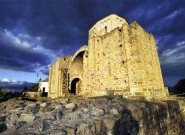 Work on the renewal of Đurđevi Stupovi (Pillars of St. George) Monastery near Novi Pazar, the endowment of Stefan Nemanja from the 12th century and a UNESCO World Heritage Site is scheduled to resume as soon as late April or early May.
As Father Gerasim, the hegumen of this holy shrine, points out restoration will be supervised by experts of the Republic Institute for Protection of Cultural Monuments, as in previous years. "Everything is going according to plan, we expect the continuation of work on the great towers (pillars) which, once fully completed, restore the original appearance of the monastery. The towers are slowly 'rising toward heaven' and this summer they should reach the height of the monastery, and work on other parts of the church of St. George, which is at the heart of the monastery complex, will be going on at the same time," said Father Gerasim.

Hegumen Gerasim explains plans for renewal of Đurđevi Stupovi Monastery to Bishop Atanasije (photo ERP KM)
The renewal of Đurđevi Stupovi has been chiefly financed by the Ministry of Culture, and a part of the funds is provided through donations by the faithful from Serbia and the diaspora.
"We are continuing with our donors campaign 'Let us renew ourselves, let us raise the Pillars', which involves a large number of celebrities from the world of culture, entertainment, film and sports. We can hardly wait for the moment when the bells will ring from the pillars to call the faithful in Raška and Deževska Valley to gatherings and prayers. God be praised, that day is getting closer," adds Father Gerasim.
Đurđevi Stupovi Monastery throughout history has been destroyed and rebuilt many times, it suffered most seriously in World War I, when it was completely razed to the ground. The first phase of the restoration was carried out in 1970s and 1980s under the supervision of the late academician Jovan Nešković, who practically raised Đurđevi Stupovi from the ashes. Works were resumed 15 years ago, the monastery was covered with a roof and enclosed, services are held in it, a new residence has been built, and the dining hall of King Dragutin has been restored and is now used to hold various spiritual and cultural events.
NEW RESIDENCE

The residence of Đurđevi Stupovi Monastery has long been too small for the monastery brotherhood and all the young people dedicated to Orthodoxy and to God who would like to take monastic vows in this holy shrine. The construction of a new and considerably larger residence is planned.