Published: 30/06/2021
Modified: 02/10/2023
SERBIAN ORTHODOX CHURCH FLAG STOLEN FROM THE GATE OF GRAČANICA MONASTERY
In the night between 29 and 30 June the Serbian Orthodox Church flag was stolen from the main gate of Gračanica Monastery. The flag is displayed on great Church feast days. At the same time on social networks appeared a photo of a masked person with a flag of Albania standing on our Church flag. Having in mind the dimensions of the flag, it is obvious that this is the one stolen from the Monastery gate. This latest incident shows a high level of disrespect of religious rights and freedoms as well as the vulnerability of the Serbian Orthodox sites in Kosovo and Metohija.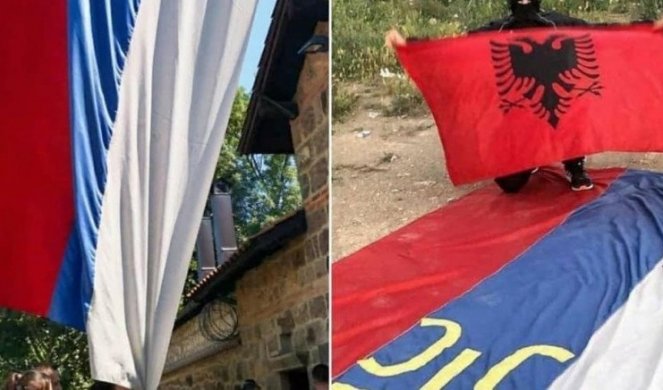 The official flag of the Serbian Orthodox Church is a Serbian tricolor with a Cross with four "fire-striker" shapes (originally Greek letter Beta) which is an old Christian symbol representing Christ as a King of kings. The flag is regulated by the Serbian Orthodox Church Constitution.
The Diocese of Raška-Prizren has reported the incident to the Kosovo police with request for additional security of the Monastery.
Diocese of Raška-Prizren
Prizren-Gračanica 30 June 2021