Published: 25/04/2014
Modified: 16/11/2020
UCK graffitti painted on Decani Monastery gate – Communique of the Diocese
COMMUNIQUE OF THE RASKA-PRIZREN DIOCESE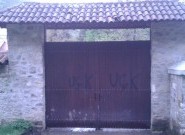 The graffitti with the acronyme of the Kosovo Albanian wartime rebel organization UCK (Kosovo Liberation Army) were painted last night on the gate of Visoki Decani Monastery, one of major Serbian Orthodox sites in Kosovo. This is the most recent provocation in the series of similar incidents by K/Albanian extremists who have painted hate speech graffitti on the walls of the Djakovica Orthodox church and Serbian homes in Orahovac earlier this year.
The Diocese of Raska-Prizren sees this act as an open threat to Visoki Decani Monastery and its monastic brotherhood, as this site has already suffered four grenade attacks by Kosovo Albanian militants in the last 15 years of the international peace and has been exposed to frequent threats by the UCK veterans. Regrettably, this latest provocation seems to be a result of the increased nationalist rhetorics which is circulating in local Albanian media. The media campaign is targeting Decani Monastery although its monks sheltered Kosovo Albanian refugees during the war.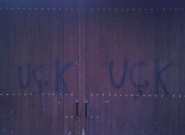 This latest incident also shows that the security of Serbian Orthodox sites in Kosovo is still endangered even in cases when the security is entrusted to NATO led peacekeepers.
The Abbot of Visoki Decani Monastery Fr. Sava Janjic informed the international military and civilian representatives about the latest incident and requested increased security measures for this world-known Christian site which was inscribed in the UNESCO list of the World Cultural Heritage in 2005. Fr. Sava stated that although such provocations endanger security of monks, pilgrims and tourists visiting the Monastery they primarily damage the image of Kosovo which is currently the only territory in Europe where Christian monuments are still in danger.
Diocese of Raska-Prizren
Gracanica, 24 April 2014.