Published: 17/03/2023
Modified: 17/03/2023
Gračanica – Marking 19 Years Since the March Pogrom Against Serbs in Kosovo and Metohija
Today, March 17, 2023, marks 19 years since the March pogrom against the Serbian and other non-Albanian population in the territory of Kosovo and Metohija, which was carried out by Kosovo Albanians.
During the pogrom, Kosovo Albanians first in Kosovska Mitrovica, and then in other parts of Kosovo and Metohija, organized the expulsion of Serbs, the destruction of their property and religious sites.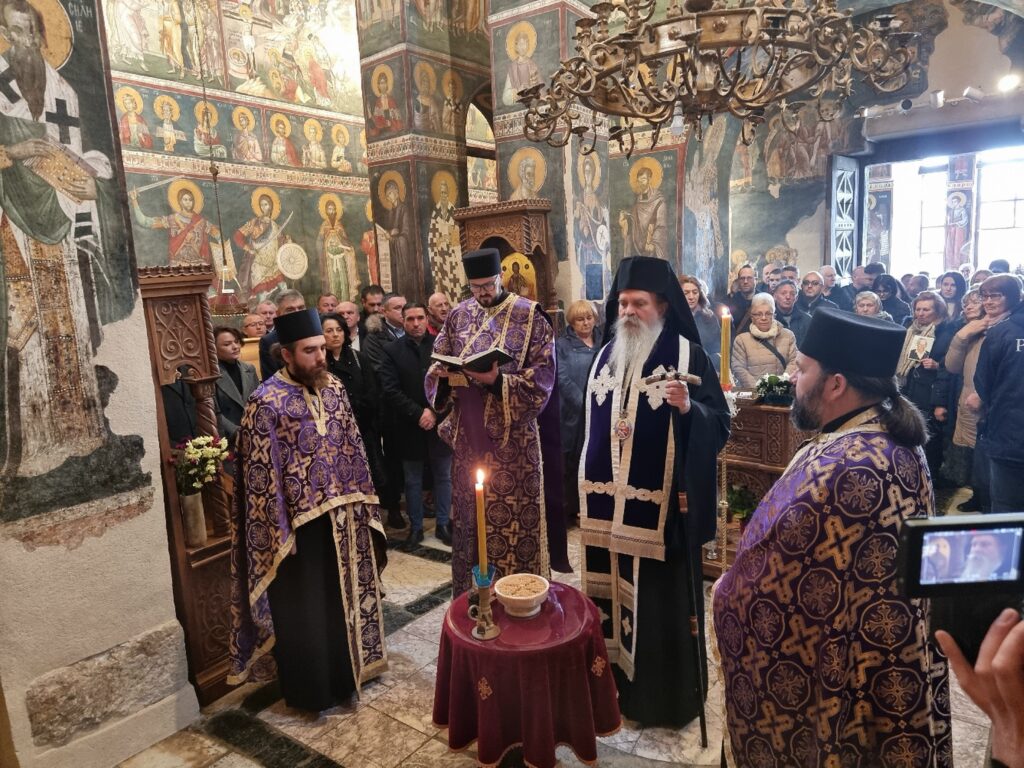 The anniversary of the pogrom, as every year, is marked throughout the Diocese of Raška-Prizren. This year's commemoration began with a memorial service at the Gračanica Monastery, which was served by Bishop Teodosije of Raška-Prizren, along with the clergy of the Diocese.
The memorial service was also attended by Bishop Ilarion of Novo Brdo, the vicar bishop of His Holiness Serbian Patriarch Porfirije. In addition, the families of the innocent victims, representatives of the Office for Kosovo and Metohija, representatives of local self-government, and Serbs from several communities in KiM were present.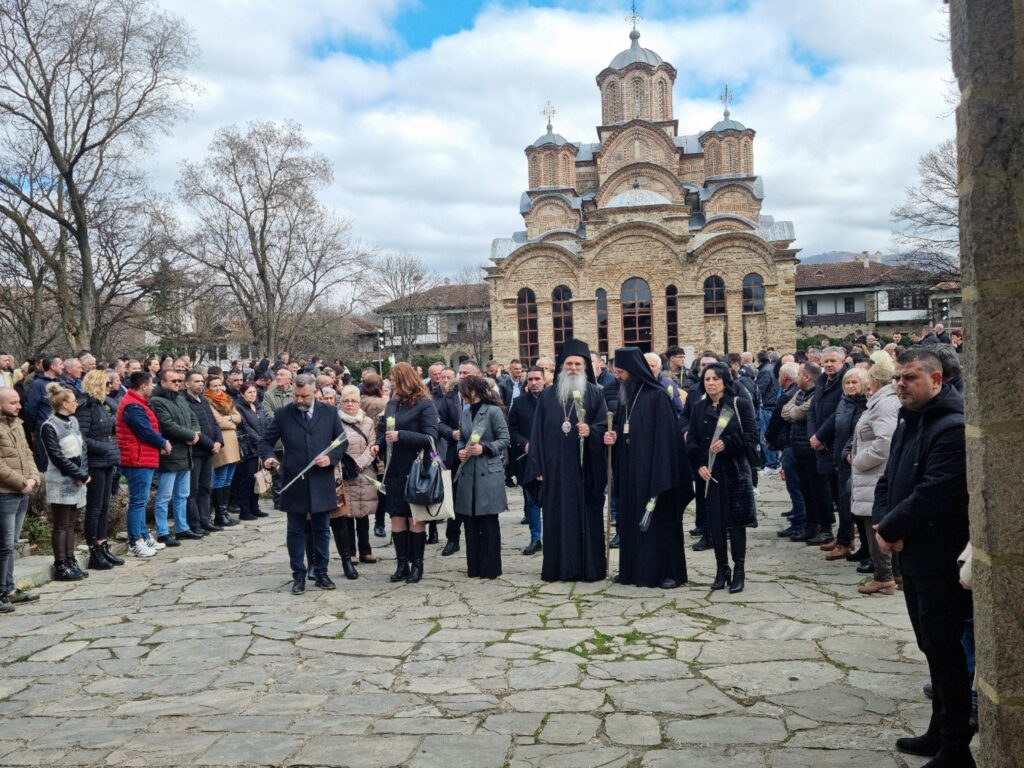 After the memorial service, a procession set out from the Monastery to the Cultural Center, where white roses were laid at the memorial dedicated to the memory of the missing persons in Kosovo and Metohija.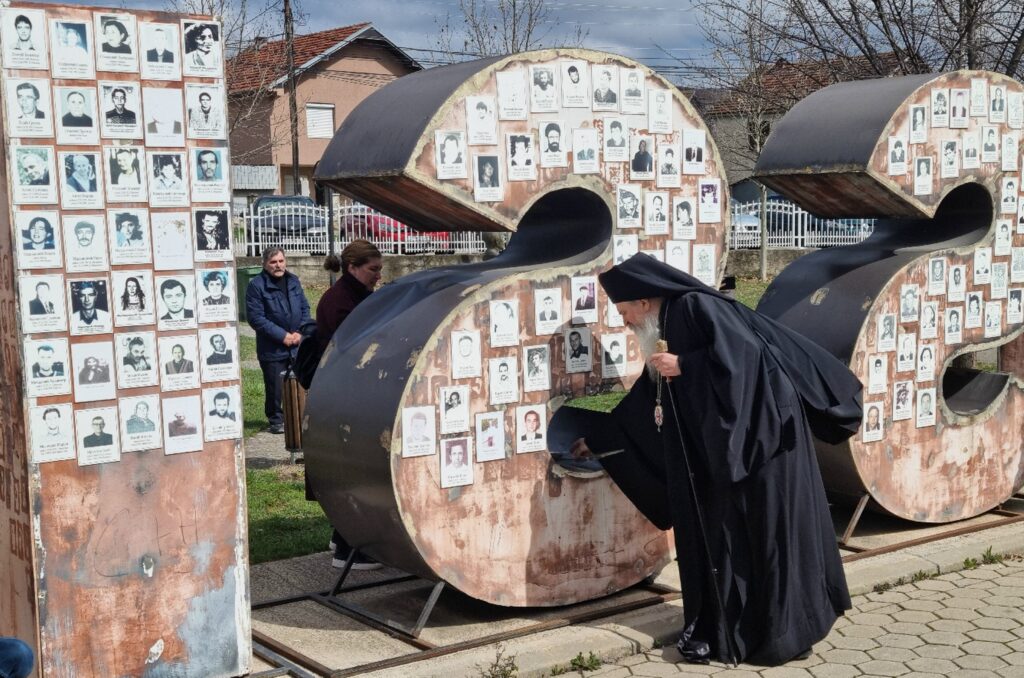 At the academy organized in memory of the innocent victims, the Bishop addressed the audience with the following words:
"For nineteen years now, every March 17th, we remember the tragic events of the Pogrom in 2004, in which, in just two days of violence, 4,000 people were expelled from their homes across Kosovo and Metohija, 19 people were killed, more than 900 people were beaten and seriously injured, and 34 of our churches and monasteries were destroyed or severely damaged. Before our eyes are still the images of the suffering Serbs in Kosovo Polje, our people who were evacuated at the last minute from the UNMIK building in Pristina, and our Prizren residents who found refuge in the KFOR base while their homes and churches were disappearing in flames."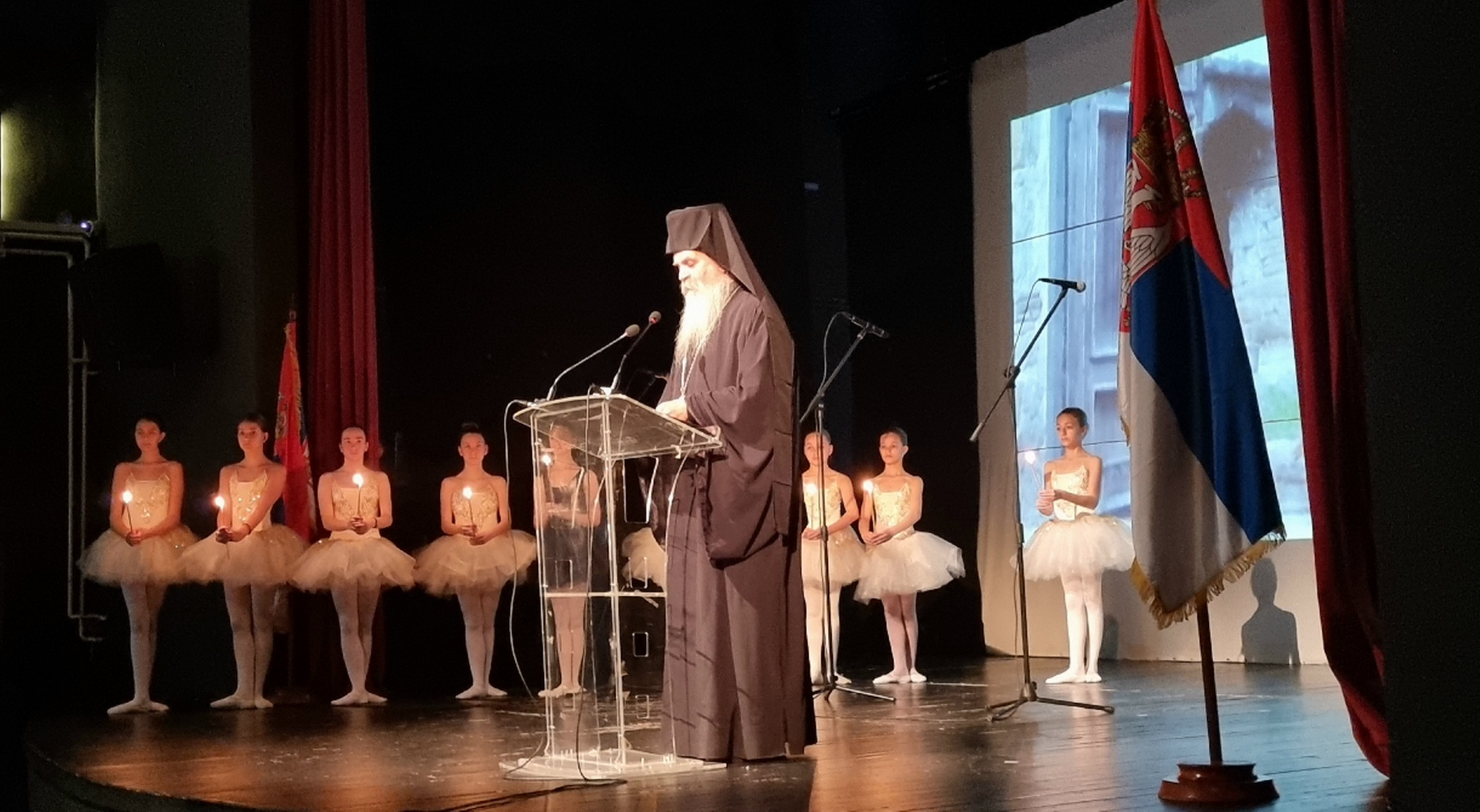 In the historical memory of our Serbian Orthodox people in this region, this is just one of many similar events that have marked our history. Suffering has never been foreign to us, but despite everything, our people have found the strength to remain and survive on this blessed land of Kosovo and Metohija, preserving their faith, their national culture and customs, their language, and historical memory. From all these troubles and sufferings, our people have emerged with wounds, but also with even greater faith and determination to never abandon or forget Kosovo and Metohija, wherever the winds of history may take them.
That is why Kosovo and Metohija is a consecrated space that transcends history, politics, transient borders, and so-called political realities. This blessed land is soaked with the blood of martyrs and victims, sown with numerous churches and monasteries, many of which are in ruins, but which still testify to our spiritual and historical existence and presence, and that is what gives us strength in all adversity.
That is why we remember this anniversary, the March Pogrom, not only with sadness and pain for the lost lives, burnt holy sites, and distressed people who lost their homes during those days, but also with the firm hope that neither this nor any other suffering will shake our determination to remain our own on our own land. Those who would like us not to be here anymore will always look and see in our holy sites, our villages, and cemeteries, reminders of the Serbian people and our centuries-old presence in these areas. We have always been ready to live with others in peace and to share what God has given to all of us as humans. But at the same time, the suffering of March 2004, as well as numerous attacks and crimes committed against our people in the last 24 years, and even the most recent ones, only make us even more determined never to renounce what is ours.
That is why every commemoration of the anniversary of the March Pogrom is both a reminder and a message to us that the future of a nation cannot be built on the forgetting of its history, that our children cannot have a true future if they forget why their ancestors lived and sacrificed themselves. Our history and our faith are not mythology, but what connects us to eternal life in Christ. Without that spiritual dimension, the Serbian people and the medieval Serbian state would never have been what they were. Without it, there would have been no Gračanica, no Patriarchate of Peć, no Dečani, no Saint Simeon Nemanja, no Saint Sava, and we would have been just one tribe in the wilderness of history, people without a true identity.
Therefore, today, on the 19th anniversary of the March Pogrom, we commemorate it with prayerful remembrance, but also with spiritual optimism that we will preserve Kosovo and Metohija only if we remain faithful to the ideals that inspired the greatest sons of our people and our Holy Church, and if we strive not to sell our land and not to abandon the graves of our ancestors. So far, we have, thankfully, restored a lot of what was destroyed, and we will continue with the restoration. However, the goal of our restoration is not only the buildings but also to encourage our people to return and to spiritually renew our communities, and to consecrate our churches again. This is a task where we need the help of our entire nation and our state, to provide living conditions for our youth, employment, and a future. In this endeavor, we must act in unity and determination, as an evangelical and Saint Sava-oriented people. Only then, united, will we be able to achieve success and accomplish all our goals.
May the Lord grant eternal memory and the Kingdom of Heaven to all who suffered in the March Pogrom of 2004, and may He strengthen us to remain and survive in Kosovo and Metohija and protect us from possible new sufferings.
May the Lord bless us, so that we spend the remaining days of the Great Lent in peace, harmony, and love, forgiving one another, so that we may all together welcome the joyous day of Christ's Resurrection.