Published: 21/01/2013
Modified: 12/10/2020
Head of the EU office in Pristina Mr. Samuel Zbogar strongly condemned the vandalism against Serbian cemeteries in Kosovo
Žbogar condemns the cemetery vandalism
Pristina, 21 January 2013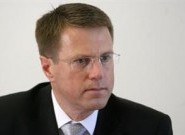 Samuel Žbogar, the Head of the European Union Office and EU Special Representative to Kosovo, condemned the recent wave of vandalising acts aimed at Serbian cemeteries.
"The series of events in Kosovo over the last 24 hours show that some people find it justifiable to express their anger over the removal of the UCPBM monument in Presevo by demolishing graveyards around Kosovo where Serbs are buried.
Regardless of the reasons for such acts, they are entirely unacceptable. I therefore condemn these actions in the strongest terms and call on all citizens to show restraint and maturity. There is nothing more cowardly than going against the remains of buried people in order to settle issues among the living ones. The dead should be respected, buried and allowed to rest in peace. There should be absolutely no tolerance for such inhuman acts.
I appeal to the authorities to prevent such atrocities with preventive measures and sanctions – and above all, I urge all Kosovo people of good will and reason to influence the public debate on this issue in order to stop such wrong and unethical acts once and for all."