Published: 21/01/2013
Modified: 12/10/2020
OSCE condemns "repeated desecration of Orthodox graveyards" in Kosovo
OSCE condemns "repeated desecration of Orthodox graveyards"
Source: B92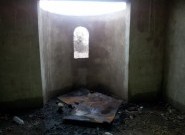 PRIŠTINA — The head of the OSCE Mission in Kosovo "strongly condemned the desecration of (Serb) Orthodox graveyards and religious monuments throughout Kosovo."
The mission issued a statement on Monday noting that during the night, "Orthodox tombstones were damaged in Klokot, Obilić and Prizren municipalities".
"A chapel at the Obilić Orthodox graveyard caught fire," said the statement, and added that "these acts follow the desecration of an Orthodox graveyard in Kosovo Polje a week ago". OSCE Ambassador Jean-Claude Schlumberger was quoted as saying that he "strongly condemned the recent acts of desecration against Orthodox graveyards in Kosovo," and adding:
"The desecration of graveyards and religious monuments is unacceptable and does not only violate the rights of the religious and ethnic communities to which they belong, but those of society as a whole."
"I am appalled by these repugnant acts of vandalism, and I welcome the Kosovo institutions' condemnation. I join the institutions in calling on all communities to remain calm and refrain from any action that might lead to violence."
"I appreciate the readiness of Kosovo police to increase security around Orthodox religious sites and urge law enforcement officials to swiftly identify the perpetrators and bring them to justice," the OSCE statement said.