Published: 31/01/2013
Modified: 12/10/2020
US Ambassador in Kosovo called for the respect of law and the decision of the Supreme court on the issue of Decani Monastery property rights
The statement of the US Ambassador to Kosovo Mrs. Tracy Jacobson
UNITED STATES EMBASSY PRISTINA
Office of Public Affairs
Arberia, Nazim Hikmet 30, Pristina 10000
TEL: (038) 5959 3000 FAX: (038) 548 615
URL: http://pristina.usembassy.gov
January 31, 2013
AMBASSADOR JACOBSON'S STATEMENT IN DECAN MUNICIPALITY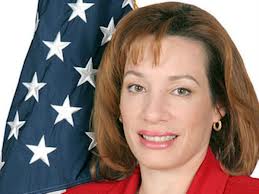 I am happy to be back visiting the beautiful city of Decan today and to meet with its leaders.
We came mainly to talk about the land issue, which has been a source of discord in this community. Whether or not people agree with the Kosovo Supreme Court ruling on this case, we must all respect the finding of the independent court and implement the settlement. This is a basic principle of rule of law. I hope that municipal leaders will be able to implement the decision quickly so the entire community can move forward.
During his 2010 visit to the Serbian Orthodox Monastery, Vice President Biden noted the monastery was not only an integral part of this community's past but more importantly, to its future. The United States and other international partners of Kosovo expect Decan to demonstrate good neighborly relations and European values here too. I urge local leaders to work together to promote tourism, economic opportunity, and growth here.