Published: 20/05/2016
Modified: 02/10/2023
Constitutional Court of Kosovo confirmed property rights of Visoki Dečani Monastery – Communique of the Diocese
COMMUNIQUE OF THE DIOCESE OF RAŠKA AND PRIZREN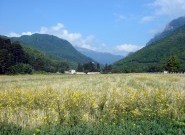 The Constitutional Court of Kosovo yesterday on 20 May finally after 16 years of litigation concluded the lawsuit and confirmed the land ownership of the Visoki Dečani Monastery over 24 hectares (59 acres) of the disputed land.
In its decision published on the official site, the Constitutional Court rejected the last year decision of the Appellate panel of the Supreme Court Special Chamber of Kosovo to send back the lawsuit to the basic court in Dečani. The Constitutional Court also ascertained that the previous decision of the Supreme Court from 27 December 2012, which had confirmed the ownership rights of the Monastery was res judicata (a matter adjudged).
Diocese of Raška-Prizren of the Serbian Orthodox Church expresses its satisfaction over the finalised lawsuit and the decision of the highest judicial institution which was reached on the basis of concrete facts. The Constitutional Court proved its competence and readiness to make an impartial judgement which has permanently protected the property rights of the Monastery over its land.
This decision is of particular importance for the sustainability of the Visoki Dečani Monastery, a World Cultural Heritage site of UNESCO, as well as the future of its monastic community. At the same time it represents a significant encouragement that in the current circumstances it is possible to protect one's rights and vital interests in Kosovo.
BISHOP OF RAŠKA-PRIZREN
TEODOSIJE
Gračanica-Prizren 21 May 2016
Decision of the Constitutional Court in English: