Published: 20/10/2023
Modified: 20/10/2023
The Raška-Prizren Diocese (SOC) vehemently protests the deportation of Abbot of the Devina Voda Monastery, Fr. Fotije from Kosovo and Metohija
Fr. Fotije (Kostovski), the  longstanding abbot of the Devina Voda Monastery in the Zvečan municipality was urgently deported from Kosovo today (20 October) by the Kosovo Police without any explanation.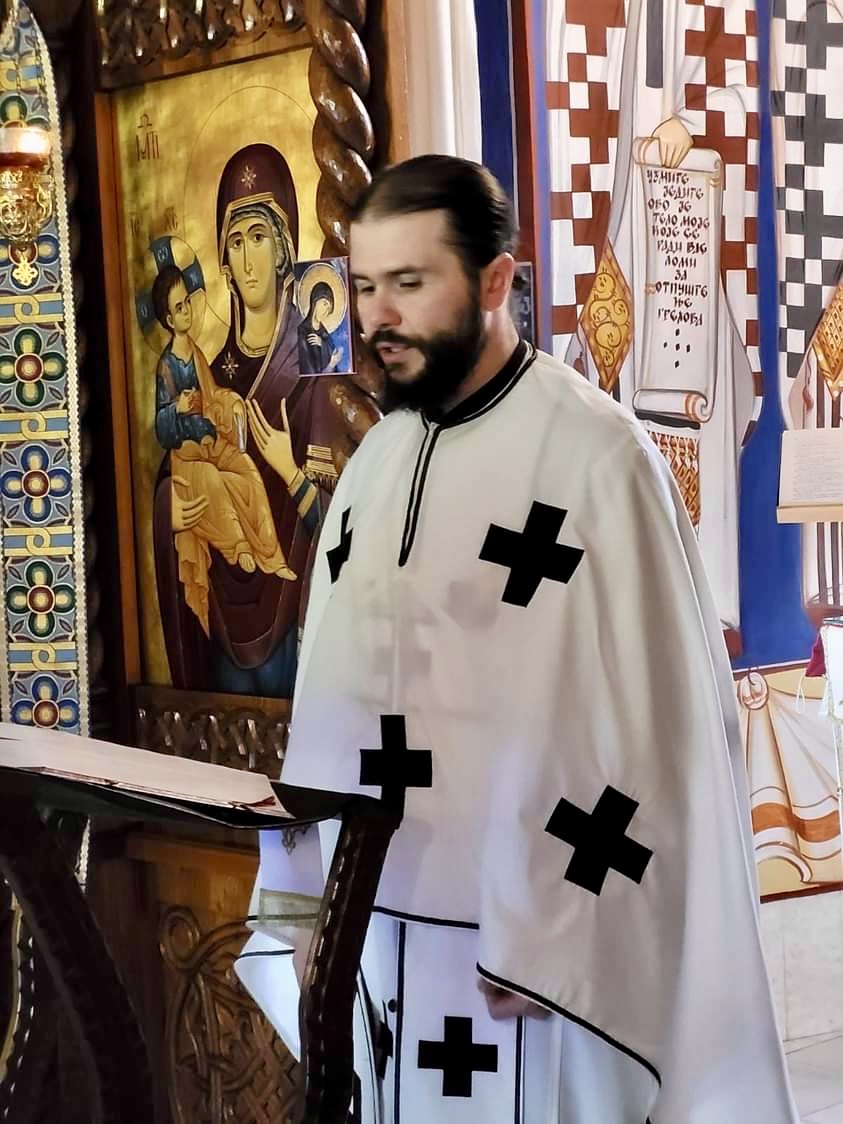 Born Aleksandar Kostovski on August 25, 1981, in Skopje (North Macedonia), Father Fotije devoted himself to monastic life after graduating from the Music Academy in Sofia, Bulgaria. He has served in the Raška-Prizren Diocese of the Serbian Orthodox Church since 2004. He was appointed the Abbot of the Devič Monastery near Zvečan in 2009, where he has resided continuously for 13 years, fulfilling his monastic duties.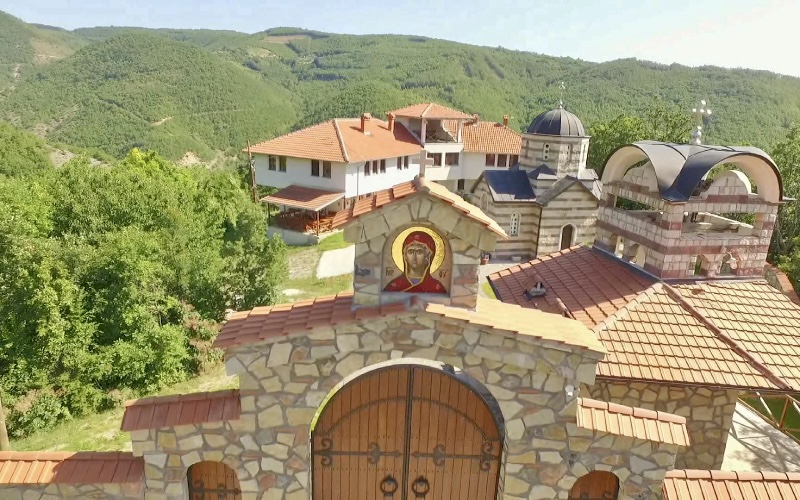 In compliance with Kosovo laws, Father Fotije, a citizen of North Macedonia, like other clergymen of our diocese who still do not have Kosovo documents, has applied annually for a residence permit over the last five years. He regularly and without any issues received extensions of his residence permit. Just ten days ago, he successfully passed the immigration test organised by the Kosovo Ministry of Internal Affairs.
Today, on October 20, he had an appointment at the Department for Foreigners and Immigration in Pristina, where he was to receive a temporary Kosovo ID card with a residence permit for the next five years.
Father Fotije and other church personnel of our Diocese who apply for Kosovo documents undergo this procedure with the coordination of the OSCE monitoring team, whose representatives were also present during today's event. Fr. Fotije is permanently residing at the Devine Vida Monastery, although his registered address is at the Diocese in Prizren, because he was previously informed that "northern Kosovo is not in the system" and he cannot apply for Kosovo documents with the address where he resides.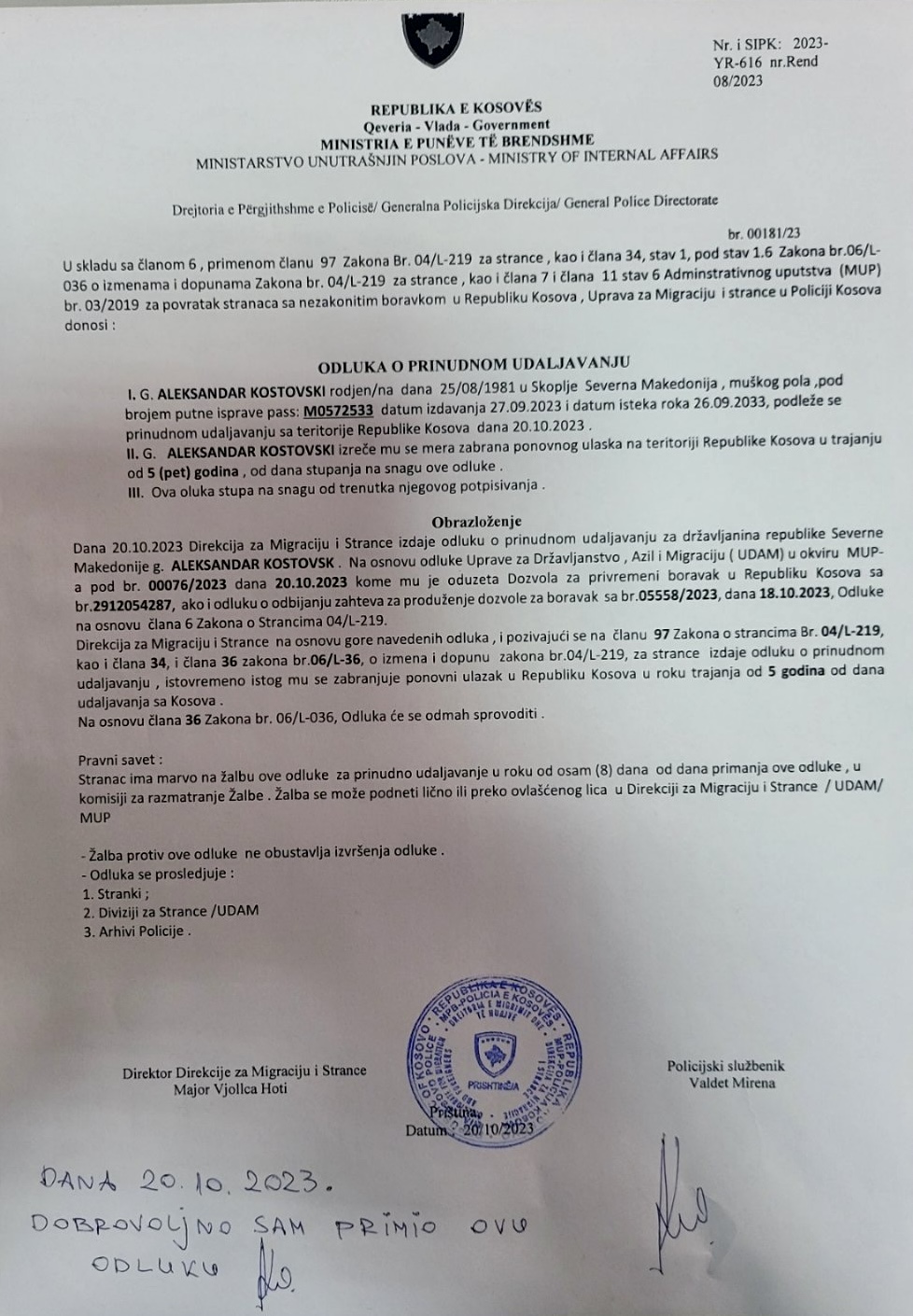 Today, as he was about to collect his new permit with an ID card, Fr. Fotije was informed, without explanation, that his request was denied. Moreover, although his previous residence was approved and valid until November 11, 2023, he was told he must immediately go to detention and would be deported from Kosovo, and all his prior applications and residence permits in Kosovo were nullified, rendering his further stay in Kosovo illegal. The document handed to him cited sections of the law related to "reasons of national security" without specifying any criminal or other liability, as Father Fotije had no such issues.
In an extremely unpleasant situation of pressure, Father Fotije was forced to sign the documents handed to him (the text of the denial and the text about the annulment of the right to further stay). The documents were given to him in Albanian and were later translated. After that, he was searched with his hands on the wall and was told that if he wants to avoid detention, after which he would certainly be without the right of residence, he can chose to be immediately deported without formal detention. Upon the Diocese's request, besides the OSCE representatives, an EULEX representative also arrived at the scene, who photographed the documents and tried to obtain an explanation of the real reasons for the deportation but was told, like Father Fotije, that it was due to "reasons of national security" without any specific details.
After being virtually compelled to agree to deportation, Father Fotije's passport of the Republic of North Macedonia and mobile phone were temporarily confiscated, and his vehicle parked in front of the building was thoroughly searched, as witnessed by the aforementioned EULEX representative. After that, Father Fotije was escorted by police to the border with North Macedonia, where his passport and phone were returned. Father Fotije was prevented from going to his monastery to take his personal belongings and was deported within a few hours after being informed that his further stay in Kosovo was not approved.
The Raška-Prizren Diocese (SOC) expresses its strongest protest concerning this unprecedented event, in which a long-serving cleric of our Diocese, who has resided in Kosovo for over 13 years, was deported without any clear explanation, barred from returning to Kosovo for the next 5 years, and had all his previous residence permits nullified.
This is a case of brutal, arbitrary, and extrajudicial expulsion of a church official from Kosovo, preventing him from carrying out his ecclesiastical mission, a blatant violation of human and religious rights. This is especially considering the law on religious freedoms in Kosovo, Article 7A.3, which states that "there shall be no arbitrary prohibition of entry into or stay in Kosovo for clergy, candidates and ministry, monks, nuns, and visitors." This section of the law specifically addresses certain aspects of the Serbian Orthodox Church's operations in Kosovo.
A similar attempt to expel a monk occurred a few years ago and was successfully resolved through the intervention of the Kosovo Ministry of Internal Affairs.
The Raška-Prizren Diocese will formally inform the EU, EULEX, ambassadors of the Quint countries, and international organisations dealing with the protection of religious and human rights about this case of overt persecution on religious and national grounds, accompanied by the blatant violation of religious rights.
With this brutal act, Kosovo institutions, without providing any specific reasons, have hindered the functioning of a monastery where Father Fotije served and have effectively initiated the overt persecution of the clergy and monasticism of our Church in Kosovo. This is unacceptable and severely exacerbates the interethnic and inter-religious situation in Kosovo.
Raška-Prizren Diocese of the Serbian Orthodox Church
October 20, 2023.