Published: 02/07/2019
Modified: 05/11/2020
URGENT APPEAL OF THE RAŠKA-PRIZREN DIOCESE – Assistance needed for the vulnerable people in North Kosovo
RAŠKA-PRIZREN DIOCESE APPEAL FOR ASSISTANCE TO VULNERABLE PEOPLE IN THE NORTH OF KOSOVO AND METOHIJA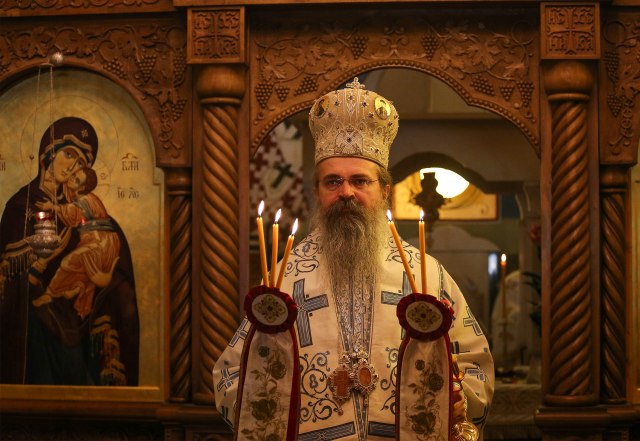 The Bishop of Raska-Prizren Teodosije served today holy liturgy at St. Demetrious in Kosovska Mitrovica thus providing spiritual support to the faithful people in this area. In a conversation with the clergy and the believers, the Bishop was briefed on the latest humanitarian situation, which, according to the testimony of the faithful, is the worse since the 1999 war. On the basis of a direct conversation with the faithful people, the Bishop published the following appeal, which we transmit:
Due to the severe humanitarian situation in the north of Kosovo and Metohija, caused by the decision of Kosovo institutions to impose 100% tariffs on all goods coming from central Serbia, as well as other restrictive measures of Priština, the Raška-Prizren Diocese addresses an urgent appeal to all Dioceses of the Serbian Orthodox Church and humanitarian organizations to organize collection of humanitarian aid for the most vulnerable population.
By imposing 100% tariffs on all goods from central Serbia, contrary to all the rules of the CEFTA organization, which guarantee free and fair trade in accordance with international and especially European standards, a burden was imposed, particularly on Serb population in Kosovo and Metohija, as it has so far was largely been supplied with goods imported from central Serbia, which is more affordable than goods currently available in stores in the south (Kosovo).
Discrimination based on the origin of the goods, which reminds us of the darkest times in the European history, is the most serious violation of human rights. Coupled with action of demonstrative ignition and destruction of Serbian goods from few months ago, to what Pristina authorities did not react, there has been a multifaceted deterioration of interethnic relations and security throughout the territory of Kosovo and Metohija with unpredictable consequences.
At the moment, the situation in northern Kosovo is seriously threatening to become alarming, especially for the poorest and socially vulnerable population, which has no way to supply either with more expensive goods from the south of Kosovo, or to travel outside the Province and bring goods in smaller quantities to homes. If this unsustainable situation continues, it will influence gradual displacement of remaining Serbian population, which is obviously the goal of Pristina authorities who hypocritically represent this humanitarian problem as a political one, and use Serbian people in Kosovo as hostages. Even yesterday's famous sending of ridiculously small quantities of goods by Pristina institutions to the Bosniak street in northern Mitrovica was primarily a theater performance, which the independent media could verify.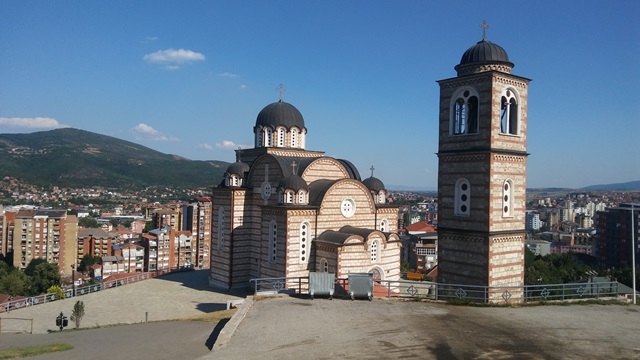 Hence, the Raška-Prizren Diocese, which has always stood firm with its people in the most difficult times, and now, with an appeal for help, informs the public that two humanitarian church points will be shortly opened: at the church of St. Demetrious in North Mitrovica and in Banjska Monastery in Zvečan municipality. The existing quantities of food and other goods will be urgently transferred from the reserves of Diocese's soup kitchens, which daily feed about 2,000 vulnerable persons, primarily in Kosovo Pomoravlje (Eastern part of Kosovo).  With this, our Church will try to help as much as possible by delivering humanitarian packages. The aid will be shared to all vulnerable regardless of religion and ethnic origin, as we have been doing for years.
We expect that humanitarian organizations, particularly the Red Cross, both in the country and abroad, will respond to our humanitarian appeal quickly, and that humanitarian goods will be delivered to Kosovo and Metohija in the coming days and weeks.
Please note that this appeal does not constitute any interference in politics, but is above all a reaction of the Church to unprecedented abuses committed against innocent people, especially our faithful people in the north of Kosovo and Metohija, who are deprived of their basic freedoms and rights by restrictive measures. We also expect international institutions to respond more urgently to this situation and to help find solutions that would protect citizens' rights, and allow a normal life that is now not possible.
Bishop of Raška-Prizren
TEODOSIJE
Kosovska Mitrovica, July 2, 2019
RASKO-PRIZREN DIOCESE APPEAL FOR ASSISTANCE TO VULNERABLE PEOPLE IN THE NORTH OF KOSOVO AND METOHIJA

The Bishop of Raska-Prizren Teodosije served today holy liturgy at St. Demetrious in Kosovska Mitrovica thus providing spiritual support to the faithful people in this area. In a conversation with the clergy and the believers, the Bishop was briefed on the latest humanitarian situation, which, according to the testimony of the faithful, is the worse since the war. On the basis of a direct conversation with the faithful people, the Bishop published the following appeal, which we transmit:

Due to the severe humanitarian situation in the north of Kosovo and Metohija, caused by the decision of Kosovo institutions to impose 100% tariffs on all goods coming from central Serbia, as well as other restrictive measures of Pristina, the Raska-Prizren Diocese addresses an urgent appeal to all Dioceses of the Serbian Orthodox Church and humanitarian organizations to organize collection of humanitarian aid for the most vulnerable population.

By imposing 100% tariffs on all goods from central Serbia, contrary to all the rules of the CEFTA organization, which guarantee free and fair trade in accordance with international and especially European standards, a burden was imposed, particularly on Serb population in Kosovo and Metohija, as it has so far was largely supplied with goods imported from central Serbia, which is more affordable than goods currently available in stores in the south.

Discrimination based on the origin of the goods, which reminds us of the darkest times in the European history, is the most serious violation of human rights. Coupled with action of demonstrative ignition and destruction of Serbian goods from few months ago, to what Pristina authorities did not react, there was a multifaceted deterioration of interethnic relations and security throughout the territory of Kosovo and Metohija with incalculable consequences.

At the moment, the situation in northern Kosovo is seriously threatened to become alarming, especially for the poorest and socially vulnerable population, which has no way to supply either with more expensive goods from the south of Kosovo, or to travel outside the province and bring goods in smaller quantities to homes. If this unsustainable situation continues, it will influence gradual displacement of remaining Serbian population, which is obviously the goal of Pristina authorities who hypocritically represent this humanitarian problem as a political one, and use Serbian people in Kosovo as hostages. Even yesterday's famous sending of ridiculously small quantities of goods by Pristina institutions to the Bosniak street in northern Mitrovica was primarily a theater performance, which the independent media could verify.

Hence, the Raska-Prizren Diocese, which has always been with its people in the most difficult times, and now, with an appeal for help, informs the public that at two points – at the church of St. Demetrious in North Mitrovica and in Banjska Monastery in Zvecan municipality – humanitarian church points will be shortly opened, where the existing quantities of food and other goods from the reserves of Diocese's soup kitchen will be urgently transferred, which daily feeds about 2,000 vulnerable persons, primarily in Kosovo Pomoravlje.  With this, our Church will try to help as much as possible by delivering humanitarian packages. The aid will be shared to all vulnerable regardless of religion and ethnic origin, as we have been doing for years.

We expect that humanitarian organizations, particularly the Red Cross, both in the country and abroad, will respond to our humanitarian appeal quickly, and that humanitarian goods will be delivered to Kosovo and Metohija in the coming days and weeks.

Please note that this appeal does not constitute any interference in politics, but is above all a reaction of the Church to unprecedented abuses committed against innocent people, especially our faithful people in the north of Kosovo and Metohija, who are deprived of their basic freedoms and rights by restrictive measures. We also expect international institutions to respond more urgently to this situation and to help find solutions that would protect citizens' rights, and allow a normal life that is now not possible.

Bishop of Raska-Prizren
TEODOSIJE

Kosovska Mitrovica, July 2, 2019